First off I want to wish everyone a Happy Easter. We had our Easter a bit early.
Our daughter got up this morning and came out here and shes hoping the Easter Bunny has came early. But he had not so she was a bit disappointed . We did out Easter eggs and I forgot to get pictures I always get pictures of Easter eggs, but it is to late now my wonderful daughter has all the eggs about ate. I guess its better then junk food. So we do the eggs then she goes to her nanny's.
I hide her basket because I'm a bit depressed so I need her excitement to cheer me up. We call next door to her nanny's and have them send her home. She comes home all excited "MOM LOOK WHAT NANNY GOT ME" So I get excited with her and I start looking at her basket she got from her nanny. When I ask her to go get me an egg. She goes into the kitchen and she screams "OH MY GOD" I ask her what she goes the Easter bunny has came. I was like what are you talking about. So she brings all her goodies to the living room.
As she is pulling out all her goodies she gets even more excited because she can finally get the Koala she has been wanting…..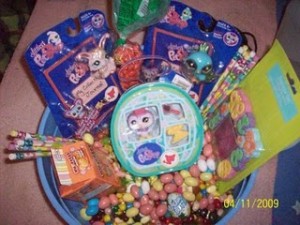 She keep's saying "I wish I new where the Easter Bunny lived so I could tell him thank you" And kept saying she loved the Easter Bunny and he gave her a good Easter.
She even took one of her LPS Postcards and wrote the Easter Bunny a note telling him she loved him and thanking him for such a great Easter.
So any ways in the morning we will be going to my sister in laws house for Easter Dinner then a egg hunt for the kids. That should be fun. But anyways ….