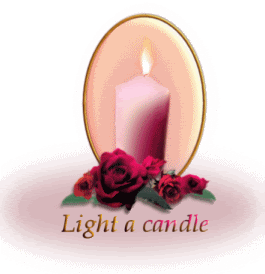 It makes me sick to my stomach and pisses me off when I hear of another innocent child disappearing. I have been following the Caylee Anthony case since she was reported missing. If you are unaware of the case you can read on it here. A brief review of the case.
Caylee was reported missing in July 2008 by her mom Casey Anthony . Although she became missing in June 2008. The only reason the mom reported her daughter missing was because Caylee's grandma pressed the issue on where Caylee was. Casey was to busy partying to give a flying donkey behind about her daughter. I have my opinion's on what happened to poor Caylee, but I will not point fingers. This person knows what they did to this precious child. In December Caylee was finally found not far from her home. And still there are many unanswered questions.
May poor Caylee rest in peace and may the person who did this to her have nightmares about this until the day they die.
Then not long after Caylee was found another little Florida girl was reported missing.
Haleigh Cummings was taken from her bed in the middle of the night. That is the story being told. I do not think they have yet found this little girl. If anyone has any information on this case please I beg you call the police and let them know. Justice needs to be served.
Sandra Cantu is the most recent little girl who has come up missing and found murdered. She was playing like a normal little girl when her predator took her. It is very disturbing on where they found this precious baby.
Something has to change. People need to start getting death for killing children. Our government needs to let these sick people (not my first choice of a word) know we as a nation will not tolerate the lives of or innocent children to be taken from us by the hands of a predator.
The candle on my blog will stay to honor all those precious babies who didn't deserve to be taken from this world. If you would like to put the candle on your page you can get the image from here.