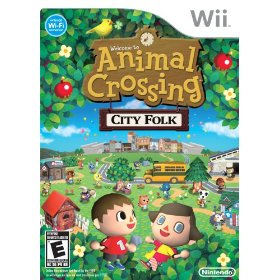 We recently got a Nintendo Wii thanks to my sister. She got an awesome deal on it. And I am going to make it up to her.
My husband borrowed Animal Crossing: City Folk from a guy he works with. We have a tendancy to buy games and then they turning out to be not so good. So before we spent the money on this game we wanted a sample if you know what I am saying.
So anyways he borrowed it and we was gonna only have it for 3 days well… It is going on week #2 and our copy is in the mail…
I give this game 2 thumbs up. Not only is it fun but it is also educational. Our daughter who is 7 loves the game she has learned so much about the different fish she has caught to the different fossils (dinosaur bones) she has dug up. It teaches her some responsibilty she has to pay her house note on the game if she wants a bigger house. She has to work to make money weither it is by picking fruit or fishing. And the neat thing is, it is real time. So if it is June 30th 12pm it is that in the game as well…. They try to make it all be in real time such as the bugs you catch to the fishing you do. My daughter loves the Museum the most I think. She can go in there and see all the different fish we have caught and all the different dinosaur displays we have found already. There is only one thing I do not like about this game and it is really a good thing. But I wish there was a way to visit other areas without needing a friends code. Also I wish the city had more things as well as the town you build. I wish you could own your own store and so forth. But over all this is a great family game, My husband even likes it.