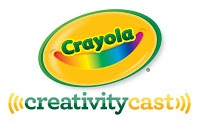 As we all know back to school shopping can be a headache. Not only do we have to shop for clothes and shoes we also have to shop for school supplies. I know when my daughter went to public schools we got a list of all the items we had to buy for her as well as items for her class room.
Now we home school and we still have the school supplies to purchase. With the economy the way it is and money being tight in all areas I was excited to learn that Crayola has teamed up with MomItForward.com, the creator of "Girls Night Out".
Starting July 28th and every Tuesday night through the month of August, Crayola is sponsoring GNO on twitter.
Crayola Creativitycast will feature a new topic each week to help you better prepare your kids to the best back to school ever.
Here is how it works.
Every Sunday through Tuesday, you can RSVP for the party by clicking on the RSVP post on MomItForward.com
There, you can include your Twitter URL in the link list and see the list of other GNO gals
Visit http://momitforward.com/gno each Monday for more information and a custom Tweet Grid for that week´s event
On Tuesday nights, tweet using the hashtag #crayolagno and chat away
GNO participants will also have the chance to win great prizes
I hope you come and join in the fun as we tweet the night away. While learning how to stretch those back to school dollars.
I received this information from MyBlogSpark and Crayola.