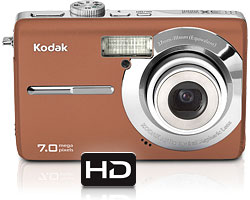 Let me first start off by saying I love Kodak. I think Kodak makes great products. I have had 2 digital camera's and both have been Kodak. The first digital camera I ever had was a 2.0MP and I paid about 150 dollars for it. I was very disappointed in that camera. The battery life was not good at all. However it did take pretty good pictures for only being 2MP.
So when I decided to get a new camera my one main focus was battery life. I always hated taking pictures of my daughter and the batteries going dead and not having back up batteries. So almost 2 years ago I decided it was probably about time to get a new camera I had my previous one for about 5 years. And technology has grown since then. So I got online and searched to see what I could find. And I happen to come across the Kodak EasyShare M753. I read some of the reviews and then I seen it used a li-lon rechargeable battery and it could be charged using the USB port of your computer. I think that right there made my decision to purchase the camera.
So I went off to the store and to my suprise they was on sale. I paid less for this camera then I did my very first digital camera. I am very happy with my decision.
Pros:
The battery life is awesome. I never miss a great moment due to the battery going dead.
There is several different settings for taking pictures. Which comes in handy when you go to the museum and you can not have flash.
I can charge it with my laptop so when I am traveling not only can I put the pictures on the computer but I can charge it when I am done.
Cons:
I wish the backlight would stay on longer when I record videos with it.
So there you have it. Would I recommend this camera too a friend. From my personal experience with this camera YES I would. It is a great camera for the money I paid for it.