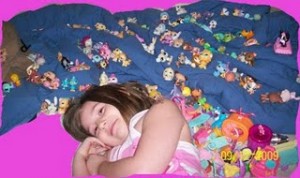 So my wonderful daughter wanted me to come see all her littlest pets. I walk into the bedroom and I find our bed is COVERED with them. As you can see from the picture Hasbro has received lots of money from us.
This picture does not do her pets justice. I counted all the ones she has on our bed and the total was 132. I know she has more around here some where. She likes to miss place them.
She literately has a small duffel bag plum full that she keeps her pets in. And she will play for hours with these small critters. One thing about being the only child is she does not lack an imagination.