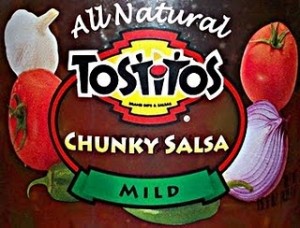 On October 23rd, we found a large piece of plastic in our salsa. Some of you may recall the post I did on it, October 26th. We contacted Frito Lay with our findings, and we was instructed to send the product back so they could investigate the situation. Well since then I have been in contact with two different ladies from Frito Lay.
Ms. Susana contacted me via email, and she expressed her concerned as well with our findings, and thanked me for sending back the product so they could further investigate what went wrong. I felt very confident that she was going to find the underlying cause of what went wrong in the process to make everyone's favorite salsa.

After Frito Lay received the product, they got right on figuring out where the plastic originated, from. I received a phone call today from Tammy @ Frito Lay. She informed me the plastic came from the bag that the peppers come in. She assured me they were taking every step they can possibly take to make sure this does not happen again.
I want to thank Frito Lay for acting promptly on this issue and not pushing it aside. As I stated in my previous post I do understand things like this happen when cooking in bulk. I now hope that Frito Lay workers will pay closer attention during the cooking and packaging process. To assure this does not happen again.
My family will still buy our favorite salsa. One of my favorite ways to eat the Tostitos salsa is by taking the Tostitos Scoops and making mini taco salads YUM.
I would like to press an issue now with my readers. If you EVER get a product no matter whom the manufacture is, and you find something in it that should not be there PLEASE contact the maker of that product. The product should have a number on there for you to call. This is very important. If we the consumers do not bring things like this to the attention of the proper channel, the company cannot take proper steps to fix the problem, and assure it does not happen again.