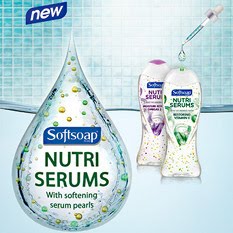 I was recently invited to participate in the BzzCampaign for SoftSoap Nutri Serums. Of course I said yes, I wanted to be a part of this Campaign.
Why did I want to be a part of this Campaign? Well I wanted to be a part of this BzzCampaign for a few different reasons.
1. I have never tried SoftSoap bodywash before.
2. I love Colgate.
When I heard a knock at the door and seen the package was from BzzAgent I was excited. I was ready to try out the bodywash. I wanted to see the difference in bodywash vs bar soap. As you can see from my tweet on twitter I was excited and ready to shower again.
Softbrand Nutri Serums just came in the mail today from bzzagent. Cant wait to try it. I am tempted to go take a shower again today.5:02 PM Oct 5th from web
So after a few hours I couldn't wait to test out the bodywash. I went and took me a nice hot bath and washed up with the SoftSoap Nutri Serum with Moisture Retaining Omega 3 & 6, the purple label. I was pretty impressed. When I got out I went and was having my husband feel and smell my arms. My skin has always been pretty soft, but I could tell a difference from using the bar soap and using the body wash.
The next day I used the SoftSoap Nutri Serums with Restoring Vitamin E. I love them both…
Here is what my 8 year old daughter had to say about SoftSoap Nutri Serums…
Mom this really does work. I used the purple one yesterday and the green one today. AND GUESS WHAT, my butt is so soft. I keep sliding on the bathtub.
Here are just a few facts about SoftSoap Nutri Serums.
1. It is the first bodywash to have softening serum pearls.
2. It was just introduced in July.
3. It retails at 3.50 to 4.50 for a 15fl oz. bottle.
4. You can get SoftSoap Nutri Serums in all major grocery stores.
5. You can get SoftSooap Nutri Serum in two varieties.
I personally loved the Softsoap Nutri Serum with Moisture Retaining Omega 3 & 6. I loved the smell. It has a nice fresh floral scent. Yummy.
More information about SoapSoft Nutri Serums can be found on the Colgate website. This review was made possible from BzzAgent, which I did recieve free samples of the product to try and share with others.
I would love to hear everyone elses opinion on the SoftSoap Nutri Serums, please leave comments with what you like or dislike about the new bodywash.
Please don't forget to visit Chat Thread. Conversation ID #101 763 192930