Having a hard time thinking of something to get for dad? I have a great idea take him to Chili's. Thanks to Chili's and WOMFire, my family had a chance to check out our local Chili's.
We went during the afternoon hours because they are usually always PACKED. So what does that tell you? It tells me they are pretty good.
They was pretty busy when we got there, but not to bad. We didn't have to wait to be seated. We ordered our drinks, and when our waitress came out she gave us an order of skillet queso and chips. (This was a mess up on her part, they was suppose to go to another table. ) We just thought maybe this was something they did. However, when our waitress returned she let us know it was a mix up and we was not going to be charged. We would have been more then happy for her to add it to our bill though, because we was going to get the chips and salsa as an appetizer.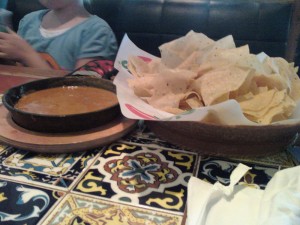 Gillian LOVED the queso dip, we then ordered and waited for our meals. Gillian our 8 year old wanted the ribs, guess she decided she was a bit to big for the Pepper Pals Kids Menu. I wouldn't have minded getting something from that menu, it all sounded yummy.
As you can see our DD was cleaning the bones. She loved the ribs, she wants to go back.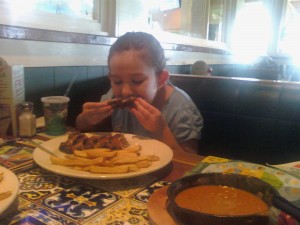 My dear husband ordered the Chili's Steakhouse Sandwich, it was huge. He had a hard time eating it all, but he got it. The steak on his sandwich was super tender.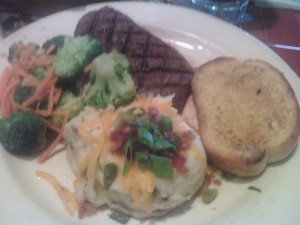 I got me the sirloin medium, with some loaded mash potatoes (yummy), and the veggie, which was broccoli. I personally was not to big on the veggie, there was not a lot of flavor on them for me, however the rest was awesome. The steak came out perfect, it was cooked perfectly had tons of flavors and was juicy. The one thing I hate is going out to eat and getting a dry steak.
The total of our bill was $39.70, and we still got a bit more to put towards going to eat there again yippee.
How would you like a chance to eat at Chili's for free. Right now Chili's is running a special promotion called "Shout Out to Eat Out" To enter all you have to do is upload a small video (10 to 30 seconds) telling Chili's why you do not want to cook tonight. That's it and you will be entered to win a gift card to Chili's. There will be one winner everyday until August 30th, 2010.
Disclaimer: My family was sent a $50 gift card, from Chili's and WOMfire. Which made this review possible everything in the review about my experience is my honest thoughts and opinion. You may or may not have the same experience my family had. Will we go again YUP, will I continue to tell others how great Chili's is YUP.