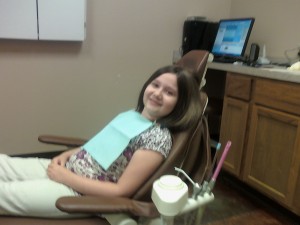 Today I took Gillian to the Dentist for the first time. Yes, she is 8 and yes I know I should have taken her sooner. However, I was told since she had state insurance she would have to go to the Health Department and see their Dentist, and there the parent can NOT go back with their child… That is a no, I will not take her anywhere if I can not go back with her.
So after we got Dental insurance I was not sure how well it was so never took her in. Well the other day I noticed one of her teeth has a bad cavity in it so I called and made her an appointment. When we got there I was a bit annoyed we had a 2:30pm appointment, and I got there at 2pm to fill out paper work and such. Anyways several people came in after us and was called back like fast, so I was getting so irritated. Finally, the lady working the desk ask when they planed on getting us back there.
When we got back I was very impressed, Gillian was scared as it was she said she had butterflies in her belly and felt like she was gonna barf. (Great here comes the anxiety) So we get to the room and they have a 32 inch TV in there with cable TV. Gillian was chill-en in the chair watching Wizards of Waverly Place.
The dentist came in checked her teeth, and I have to say it wasn't good news. UGH It will cost more to fix her teeth then it cost to pull mine and get a top plate. Anyways, she ended up having 6 cavities 2 was bad, but she will need I think they said 3 caps, and the others filled. Right now we are waiting to see what the insurance will cover, we will probably have to do some now and some next year.
After they was done the one lady brushed Gillian's teeth and gave her a Colgate toothbrush and some spongebob toothpaste. Then she gave her 4 coins to get some little toys from the machine on our way out. I had Gillian prepared for the nasty fluoride foam things they make you do. Well to my surprise they do it a different way here, so they do not make the children uncomfortably.
I am so glad Gillian had a great first visit to the Dentist she said she can not wait until next week to go get her teeth cleaned again. I had to inform her it is a once a year thing LOL.