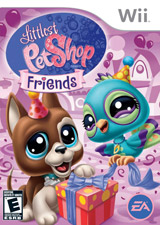 I recently received the opportunity to review the Littlest PetShop Friends game for the Wii. Gillian is huge into Littlest Pets and she has a few of the Littlest PetShop games for her DS, so I knew she would love the game for the Wii.
When we received the Littlest PetShop Friends Wii game in the mail, Gillian got super excited she had to check it out right then and there. It is a good thing daddy was sleeping, because the T.V became hers.
She immediately made herself an account, and started checking out the games. The first game she checked out was "Perfect Pitch" it is like skeet ball. Only thing is this has 3 different areas to throw the ball and a arrow moves back and forth so you have to stay steady and focused or you will miss. I personally loved this game. It made Gillian have to focus if she wanted to get the ball into the higher point holes. She was doing awesome on the easy mode. So I had her switch to normal she got a bit nervous, went to throw the ball and realized the arrow moved faster so she had to think a bit more on when and where to throw.  Again she did it and got real good so I had her to it in hard.
I love how the games have 3 different settings, it gives the children more opportunities to advance, and focus more.
With the world becoming so much based on electronics I love that game creators are making the games for younger children more educational, and they are doing this without the children knowing and it is not effecting the game. Not only does this game help Gillian focus, it also works on her reading skills, her concentration skills, and her motor skills.
The Littlest PetShop friends game has many different mini games and jobs for your children to do, they also can unlock more and more friends as they go through the game.
Features
An all-new mystery pet is coming to town and you'll just have to play to see what else pops up.
Collect all new pets packed full of personality! Meet the Great Dane, the Peacock, the Collie, the Ladybug, and many more of your favorite pets.
Each pet has a best friend that helps them prepare for the party! Plus full co-op gameplay lets you and your real-life best friend enjoy the fun together.
An all-new story guides you along your journey as you play mini-games and accomplish tasks to get closer to the celebration.
Design your own accessories and style out your pets in your own unique way.
Some of the games they can play are:
Perfect Pitch
Bath Time
Wags and Tags
Suds
and many more…
Some of the pets they can unlock include:
Husky 1012
Husky Puppy 1013
Ladybug 1264
Mystery Pet 1228
and several more….
Here is what Gillian had to say about the game:
The game is awesome and I love it. I like how I can get new pets to play with.
What mom has to say about the game:
I love how the graphics actually resemble the Littlest PetShop toys. I also love that I am hearing Gillian read more and more. She thinks reading is boring, so giving her a game that she loves and she needs to read if she wants to know what is going on it great. I also love how educational the game is.
I highly recommend this game if you have children that love littlest pets, and if you have a Wii, another great thing about this game is it is 2 player.
Littlest PetShop Friends is rated E for everyone you can purchase the Littlest PetShop Friends game at your local Wal-mart, Amazon, and Target. You can also purchase other Littlest PetShop toys at Hasbro Toy Shop.
Also, don't forget to check out Littlest PetShop Online. You can purchase a pet and register them online for hours of fun for your little ones. I do have 2 codes for a 10 day premium account if anyone is interested and would like to check this out. You will not be disappointed, Gillian has a blast playing online.
Disclaimer: My family received a copy of the Littlest PetShop Friends game for the Wii for review purposes, everything stated in this review is solely my opinion.