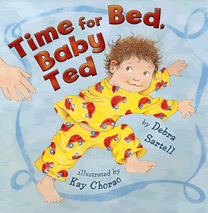 Reading to your children is very important, not only does it let the child open their minds to the magical world around us, but it also give mom and dad some cuddle time with their baby.
When I was first contacted about doing a review/giveaway for the book I was a bit iffy, because my daughter is going on 9. Time for Bed, Baby Ted is geared towards toddlers the age of 1 to 3. However, with the Father's Day event going on right now, and with us home schooling our daughter, I decided to go ahead and go for it.
This is a very cute book, for dad to read with their little ones. I know sometimes dads can be overly busy and sometimes forget to make time for their little ones who need them more then they might think. Getting Time for Bed, Baby Ted for dad for Fathers Day would be a perfect gift, it would help remind dad to spend some quality time with the little ones even if it is reading a book with your child before bed. Soon those times will fly and your baby will be grown and not want to cuddle. So dad enjoy it while you have it.
One thing I personally loved about the book, is it gives the children a chance to role play as well. My niece came over shortly after I got the book and I read it to her, as we got to certain parts of the story she was making the animal sounds and also guessing the animals. She is 3, and we had fun with the story. The next day when she came back over, first thing she did was get the book and bring it right to me. I tried to get her to let my dear daughter read it to her, but she wanted me too. So again she was getting all excited and helping me read the story.
The Story :
It's time for bed, but where is baby Ted? He's not baby Ted! Try and guess what he is instead. Whether baby Ted is pretending to be a snapping crocodile, squeaky mouse, or prickly porcupine, in the end he is big boy instead and gets himself ready for bed. With a SNAP and a WRAP and a SQUEAK and a SNEAK, and a little help from his loving father, Ted gets into his pajamas, brushes his teeth, and snuggles under the covers for a good night's sleep.

Author: Debra Sartell and Illustrator: Kay Chorao
Price: $12.20 – $16.95

Pages: 32

Purchase from: Amazon, Barnes & Noble or Borders
Would you like to win Time for Bed, Baby Ted by Debra Sartell.
Mandatory: Head on over to Debra's website and tell me something you learned. This must be done in order for the others to count.
If you want extras
2.) Follow my blog and let me know you did. (1 extra)
3.) Subscribe to my blog (2 extra)
4.) Follow me on twitter. (1 extra)
5.) Add my button to your blog (3 extra)
6.) You can also tweet if you would like. Just make sure to link back to this post, and leave me the link to the tweet.
Enter to win Time for Bed, Baby Ted By Debra Sartell http://tinyurl.com/2adoanm @Jammie79
Disclaimer: I was sent the book for review purposes, all the opinions of the said book are completely mine. This giveaway is open to US residents only and will end May 30th @ 11:59pm. I will pick a winner via random.org. The winner will have 48 hours to get back with me before I pick another winner.