With my birthday and anniversary coming up I like to stalk the internet and awe over amazing products I wish I had. It doesn't hurt a girl to day dream does it? Kind of like window shopping, but instead I am inter-web stalking.
One site I was introduced to was Amazing Music Box & Gifts. After browsing the different music boxes they have to offer I found one I really like.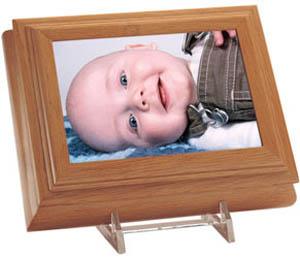 When it comes to Jewelry I am a ring sort of girl. I have several rings and the sad thing about that, I have no place to put them, and with my daughter getting older, I need a place to keep my keepsake rings safe. I hope one day to pass on my rings to her. However, I can not do that if I end up losing them due to not having a place to put them.
The one thing I found awesome about this particular music box, is it has a compartment made for all your rings. So I wouldn't have to worry about losing the rings I would like to hand down to my daughter one day.
I also love the fact I can customize it with a personal picture of my family.