With summer here we use the blender a lot. What better way to keep your family hydrated then with some yummy frozen drinks. Of course I am talking about the ice, water and kool-aid frozen drinks.
So when CSN stores approached me about doing a review on a product from one of their 200+ stores I had to say yes. That was the easy part. The hardest part was browsing through their different stores to see which product I wanted to review.
I new I wanted to do a review on something from their Cookware site. So I went off a looking and I came across all their awesome blenders. There was one however that caught my eye. The Back to Basics Blender Express Plus!!!
Look at that blender!!! As soon as we received this blender in the mail we put it to work. I had some country time lemonade, so we got the ice and made a yummy drink. Since receiving this blender we have ran out of ice 4 times… My husband is always going in and making him another frozen drink. With it being so hot this is a must have.
We all agreed in my home one of the best features about the Blender Express Plus is the fact you can mix the drinks in the cups and there is no big clean up after wards. I would love to get another mixing cup for ours, but I can not seem to find them.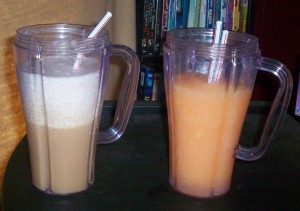 Look at these yummy drinks!!! The one on the left is my all famous Ice Coffee. Sorry McDonald's you have nothing on me know. With a little strong brewed coffee, milk, sugar, ice and caramel you to can make the prefect coffee drink. The one on the right is my husbands mix of fresh fruit. His drink includes frozen mango, ice, pink lemonade, orange nestle water, and strawberry kiwi water from nestle as well. Flav0r waters comes in handy for making frozen fruit drinks.
About the Blender Express Plus
Designed for today's busy lifestyle, the Blender Express Plus from Back to Basics combines functionality with ultimate convenience to provide refreshment on the go. This 11-peice blending set includes two 24-ounce traveling mugs, two leak proof closeable drinking lids, two sipping rims, two interchangeable blade bases, and many more features for when you are on the go! Features:

2 Interchangeable blade bases
Includes 2 detachable blending containers; 12-ounce, and 18-ounce
2 leak proof, closeable drinking lids w/ two 24-ounce insulated traveling mugs
quick to assemble, and easy to clean
Dimensions: 13.25″H x 6″W x 5.5″D
Want to own your own Blender Express Plus? You can do so by going to Cookware.com they have it for $39.99. You will not be disappointed in this blender. I can not wait to attempt to make salsa in ours. The only thing I have made thus far is drinks.
Disclaimer: I received this product from CSN Stores for review purposes. My thoughts on this blender are 100% mine.