I can describe Gourmet Gift Baskets in one word amazing. With Father's Day in less then 3 weeks, I have been scoping the net for great companies that offer amazing products for Dads. So today I bring you Gourmet Gift Baskets.
Gourmet Gift baskets was founded in 2002, they have a wide selection of gift baskets to choose from. Whether you are shopping for a special holiday, birth of a child, or if you just want to say thank you to someone for making a difference in your life. Gourmet Gift Baskets has just what you are looking for. Prices range anywhere from under $25 to over $125.
I recently got to sample what Gourmet Gift Baskets had to offer, we received the Fathers Day Golf Gift Basket in the mail to review. When we received the package I loved how they had carefully packed the box so the basket had no room to move. This makes sure your basket arrives all in tact. They also have it packaged very well so when you do remove it from the box all the content does not fall out.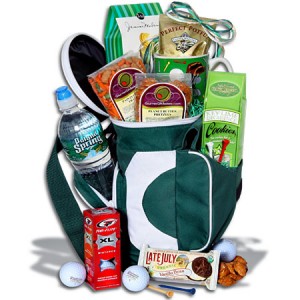 Luckily my husband was still up, I would have hated to have to wait to dig into all the yummy treats we found in this gift basket.
What all comes in the Fathers Day Golf Gift Basket? The below information was taken directly from the GourmetGiftBaskets.com website.
Ingredients:
· Hole in One Golf Bag Cooler – Exactly; it's a cooler. This item from our golf gift baskets is something that he is sure to hang on to for years to come.
· Golf Balls Sleeve of 3 – These PGA-quality balls are sure to keep Dad busy on the course.
· Key Lime Decadence Tea Cookies by The Famous Pacific Dessert Co. – 5 oz. – Dads, golfers, and dad golfers alike love these deliciously sweet and citrusy cookies.
· Painted Desert Trail Mix by GourmetGiftBaskets.com – 8 oz. – Make sure Dad does not go hungry on the course with this robust selection of southwest themed snacks.
· Asiago Cheese Straws by J&M – 2.5 oz. – These Asiago cheese snacks are favorites of many of our customers.
· Vanilla Bean Sandwich Cookie by Late July – 1.5 oz. – These cookies consist of two chocolate wafers separated by a sweet, creamy vanilla frosting.
· Bag of "Perfect Potful" Coffee by Coffee Masters – Reward Dad for all of the times he woke up early in the morning for your betterment with this gourmet Arabic coffee.
· GourmetGiftBaskets.com Peanut Butter Pretzel Nuggets – 4 oz. – These sweet and nutty nuggets won't last long!
· Golf Mug – This stylish, sturdy mug will be around long after he has devoured all of the wonderful snacks in these golf gift baskets.
· Poland Spring Sport Top Bottle – This bottled water is as refreshing on the course as it is after mowing the lawn, so we thought we would go ahead and include it in our line of Father's day gifts.
· Golf Tees – They get launched, broken, and forgotten which is why golfer's always need extra golf tees.
Let me start by saying we have tried other gourmet gift baskets before, and I honestly was not impressed. If you are going to pay $25+ for a gift basket you atleast want the food in it to be amazing right?
Did you know Gourmet Gift Baskets works with 600+ different gourmet food suppliers to bring their customers the absolute best?
I can not guarantee you that this is the best. I can however, tell you this is the best I have ever had. I can also say that I enjoyed everything that came in this basket. The Asiago cheese crackers was my favorite, they had an awesome flavor. I only got a few of these though, my husband ran off with the bag. The painted desert trail mix had to much of a kick in it for me, but my dear husband loved the kick. We even shared with our daughter her favorite was the peanut butter pretzels. Want to know another great thing about this gift basket? You can reuse the "basket" that came with it over and over again. I am sure we will use ours to keep drinks nice and cold when we take our daughter on hikes.
Want to know something else about Gourmet Gift Baskets? Of course you do, they currently hold the record for the LARGEST CUPCAKE!!! I thought that was pretty neat, so of course I had to share that information, can you imagine a 1,224 pound cupcake? I think I just gained a few pounds just looking at it.
Buy It: You can purchase Fathers Day Golf Gift Basket on Gourmet Gift Baskets website for $69.99.
OR
You can win it right here. Gourmet Gift Baskets is letting me give one of the Fathers Day Golf Gift Baskets away to one of my readers. Yup, so one of my readers will be able to give a lucky man in their life some awesome treats to eat on Fathers Day. The father in your life will not be disappointed in this basket. Guess what else this giveaway is open to BOTH USA and Canada woohoo.
So here is how to enter, and this MUST be done or I will look over your comment.
Win It:
MANDATORY: Head on over to Gourmet Gift Baskets, and have a look around, once you find a gift basket you love head on over to facebook and Fan/Like Gourmet Gift Baskets, and let them know which gift basket you love. Please also let them know you came from The Neat Things In Life. Then come back here and leave a comment letting me know your name you posted with so I can verify this was done.
Want Extra Entries:
Follow Gourmet Gift Baskets on twitter. (1 extra)
Follow me on twitter. (1 extra)
Tweet the giveaway (This can be done daily)
Enter to win a Fathers Day Golf Gift Basket @gmtgiftbaskets and @Jammie79 http://bit.ly/9GRMut Pls RT
Blog about the giveaway with a link back to this post. (5 extra)
Come back daily and tell me another basket you love. (1 daily different basket each time)
Leave a comment on any non giveaway post. (1 extra per post leave a comment here letting me know. This can only be done once daily)
Like The Neat Things in Life on facebook. (2 extra)
Become a google friend. ( 1 extra)
Subscribe to my blog (2 extra)
This giveaway will end June 17th @ 11:59pm CST. Please leave a valid email address. Winner will be picked via random.org.  Winner will have 48 hours to respond, or another winner will be chosen. Giveaway is open to US and Canada residents only.
Disclosure: My family received the above gift basket for review purposes. Everything I stated in this post about the above product is 100% my opinion, my taste buds do not lie. No other form of payment was received.