About Costumes4less.com
Costumes4Less.com® is a leading online retailer of Halloween Costumes & Accessories, Drama and Theme Party Costumes, Lingerie & Sexy Wear, Shoes and Party & Wedding Supplies. We are a division of Anilta Corporation, based in California, USA. Our mission is to offer you the most pleasant online shopping experience by providing the widest selection of products, at best possible prices via our easy-to-use, full featured and secure web site. READ MORE.
Not only does Costumes4Less have amazing Halloween Costumes, but they also have a wide range of other great products. Costumes4less strives to bring their customers not only great products, but also great service. I have had the opportunity to experience their service first hand.
I was given store credit to purchase Gillian a nice Halloween Costume, and to bring you all a review and awesome Giveaway. The hardest part through the whole ordering process, was with Gillian, she was unsure on which Costume she wanted. She kept saying "Mom this is to hard, they have so many I LOVE, oh I wish I could have them all"
She ended up picking out 3 different ones. Why 3 you ask when she is only one person and she can only wear one at once? Well, Gillian LOVES to play dress up, and we all know Costumes are not just for Halloween.
That is another great thing about Costumes4Less.com they offer a lot more then just your normal Halloween wear. They also have Mascot Costumes, Costumes for your pets, and Costumes by different themes. We are not talking just a few we are talking hundreds.
The three Gillian ended up getting was the Child Pink Josie Costume, Mad Hatter Child Costume, and Pebbles Child Costume. So far we have received the Child Pink Josie Costume, the other ones are coming from a different warehouse and will be here next week.
My Thoughts: For a Halloween Costume I was pretty impressed with how the costume was made. I got this one a bit bigger so that she could use it for play for a bit longer. Usually the ones we get from the store are a one time wear only before they start falling apart and being a mom on a budget, I like to spend money on things that will get more then a one time use.
Gillian Says: I like it because it is a kitty outfit.
Mom Says: I think Gillian likes it because of the kitty tail and the ears.
Dad's Thoughts: It is showing way to much skin.
Mom Says: Don't worry that is for around the house play, that is not the one she is wearing out to Trick er Treat. :)
Ah Ha and mom wins :)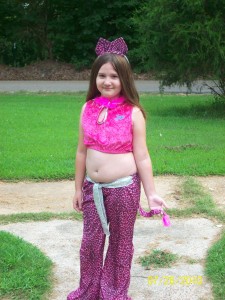 The Costume size is for 8 to 10 year olds. However, Gillian is short so it fit perfect every where but the length :)
Now how would you all like a shot to win $50 store credit to Costumes4less.com, if for some reason the winners total is more then 50 they are held responsible for the remaining balance.
Discounts: Do not forget on August 5th only Costumes4less.com will be offering 25% off ANYTHING in their stores. Make sure you click the Costumes4less Discount Code link to access the discount on August 5th.
Buy It: If you would rather not wait for this giveaway to be over, you can purchase your Halloween Costumes at Costumes4less.com, as stated they have a wide selection to choose from.
Win It: This is Mandatory to win. Head over to Costumes4less.com and tell me what Costume you would get if you was to win. This MUST BE DONE before any extras can be counted.
Want Extras?
2.) Follow Costumes4Less on twitter. ( 2 extra comments)
3.) Like Costumes4Less on facebook. Do not forget to let them know who sent ya :) (2 extra comments)
4.) Blog about this giveaway just copy and past the below into a post and publish. Make sure the hyper links stay into place once you post. (7 extra make sure to let me know where I can find the post)
Have you thought about Halloween yet? Head on over to The Neat Things in Life (http://www.theneatthingsinlife.com/?p=2326) and enter for your chance to win $50 store credit to Costumes4less.com. You can never have your Halloween Costumes purchased to early. Do not let your child have to wear a Costume no one wanted. Giveaway ends September 1st @ 11:59pm CST.
5.) Follow me on twitter. (2 extra)
6.) Post this giveaway on any giveaway site. Make sure to let me know where you posted it at. (1 extra for each place you post)
7.) Become a google follower and/or Subscriber. (1 for each that you do)
8.) Tweet the giveaway. ( 2 times daily at least 1 hour a part.)
I Just entered to Win $50 store credit to @Costumes4less http://bit.ly/duKPwy @Jammie79 #Halloween #giveaways
UPDATE:  BE SURE TO CHECK OUT BUY QUALITY COSTUMES IT IS COSTUMES4LESS'S BLOG THEY ALSO HAVE A GIVEAWAY GOING ON FOR $50 SC.
Giveaway ends September 1st @ 11:59pm CST. Giveaway is open to US Residents age 18+. I will pick a winner via "And the Winner is" Plugin. Winner will have 48 hours to contact me back and or a new winner will be drawn.
Disclosure: We received store credit to purchase the Halloween Costumes, we received. No other form of payment was received. All opinions in this post are 100% mine.