My husband has always wanted a Bonsai tree, because the trees are considered an art form in China and he has always thought it would be neat to own one. When I first learned proflowers was looking for reviewers, and noticed the Bonsai Tree, I knew right then that was the item I wanted to review.  So we went and picked the Juniper Bonsai Tree.
Juniper Bonsai Tree: Please note this information was taken from the Pro Flower website to do this review.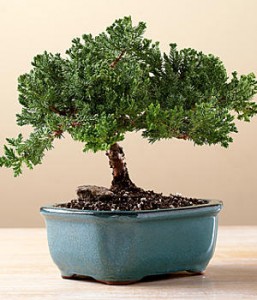 Item Description:

One 3-year-old Green Mound Juniper Bonsai (approximately 6-8″ high)
8″ ceramic pot
Care instructions
Item #944

This is the perfect introduction to Bonsai, an art form that traces its roots to China. One carefully groomed juniper will get your recipient started in appreciating the ancient art of Bonsai. Give this Bonsai to someone who likes "tinkering," or to a business associate. For best results, place Bonsai outdoors in a spot that receives full sun. Care instructions are included.



We received the Juniper Bonsai Tree in the mail yesterday, and my husband got all excited. You would have thought he was a kid in a candy store. He finally got his Bonsai Tree.
When the Bonsai Tree came I carefully opened the box, and to my surprise the bonsai tree was in there perfectly, I was kind of expecting it to be all thrown about from its journey to its new home. I should have known better though Pro Flowers did not get their name from being sloppy with mailing their products. They are "Pros" after all. The bonsai tree was very secure.
I would say I carefully removed the tree from the box, but I guess I didn't, because I got poked… Oops.
My husband and I are very pleased with the new addition to our front porch. The Bonsai tree we receive stands roughly around 7 inches tall. (we measured it to see if it was the size stated in the description) I am however, unsure the age of the tree. I do know the Bonsai trees grow very slow and if well taken care of will last for ever.
My husband even sent me to the store to get him some pruning shears so he can start training the tree. He has expressed to me he would like it to do a zigzag pattern, I have expressed to him this is HIS tree and I am not to be held responsible for it.
Disclaimer: I was sent this tree free from Pro Flowers to do this review. This did not alter this review in anyway, and no other form of payment was received.