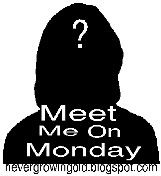 I am not in the over 40s, but I would love to join in on this meme :) Want to join in on the fun. Head on over to Never Growing Old and link up. Every Monday there will be 5 new questions.
1. What is your favorite sandwich? – My favorite sandwich would be Roast Beef, with miracle whip and lettuce, tomatoes on wheat.
2. What is stashed under your bed/mattress? – I have nothing stashed under my bed. I once had my daughters baby teeth there, but some how they vanished… Guess the tooth fairy took them, and if so she owes me some money
3. What is your favorite flower? – My all time favorite is the purple lilac omg they smell so good.
4. What is your favorite magazine?- I like the True Story magazines.
5. How often do you weigh yourself?- Daily, Why? Good question.