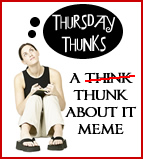 Welcome to the July 15th edition of Thursday Thunks!
(which we always seem to post on Wednesday)
Where we make you think a little bit before you blog!
We pick a subject, and your job is to interpret it anyway you want.
Write about it on your blog… simple as that.
Maybe you can interpret it as a picture – we don't care!
Please only leave a link if you have written a Thursday Thunks post.
Don't forget to go visit the other participants' blogs.
Read and comment about all their Thursday Thunks responses!
That's what all this is about after all, isn't it?
We'll have so much fun and become lifelong friends….
Thursday Thunks: Kitchen Wonderland
The TT questions are brought to you by Bud, the color of Jupiter's third moon and the number 3,333,333.
1. Billy Mays died about a year ago. What kitchen gadgets have you bought that you've used less than three times? What are they?
Since I am poor I do not buy much of anything kitchen wise. I did buy a Hamilton Beach slicer/chopper thingy ma-jig and have only used it ONCE. Good thing it was marked from 70$ to 35$ someday it might come in handy ya never know. :)
2. What celebrity would you like to shake some sense into, and why?
Mel Gibson, because I think he is an amazing actor and he is just "acting" lika a jackass right now.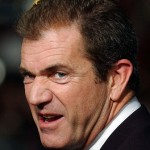 3. Jimmy Buffett just did on concert to benefit the victims of the Gulf. Name a Buffett song that you like.

4. How did you feel about Ringo Starr turned 70?
Just another number if ya ask me…
5. What sport do you absolute see no point in watching?
I see no point in watching golf, but then again I wasn't screwing Tiger either, er uhm I mean I don't watch sports at all. :)
6. Trivia time. Do you know the first names of the French twins?

The French whos?
7. You are in the best seafood restaurant in Canada. What type of meat do you order?
First I would ask who ever was taking out order if they had chicken. I don't so seafood. Sorry yall crabs don't turn me on. :)
8. How far would an electric car have to go without a recharge before you'd buy one?
At least 800 miles. Get me to my home town on a full charge and do auto drive I will buy one in a heart beat.
9. Did you see that a high court ruled that you can swear on regular TV? What word can you just not wait to hear?
Son of a bitch… I was going to insert a picture of my mother in law here but she might try to sue me LOL
10. You are in the finest steak and rib joint in Kimberville (Arizona). What seafood dish do you order?
Now wtf would I order seafood. I just told ya crabs do not turn me on and I am in a Steak joint bring on the Tbones.

11. What was the last concert that you attended that really sucked?
I have never been to a real concert, when I become rich and have no bills I will get back at ya on this one.
12. What type of accent would you like to have, if you were forced to change yours?
Australian – I just loved Steven Irwin's accent. RIP Steve

13. Kimber's got four kids with chicken pox. Berleen is not feeling the love today, so I was asked to host. What do you miss most when neither originator of TT is asking the questions?
I just recently started playing so I am not sure on this one… Let me play for awhile and I will tell ya if you sucked or not :)
Wanna join in on the fun head on over to Thursday Thunks get a post up and link-er up. Happy Thunking!!!