Calling all cat lovers! 9Lives® wants pet parents to know they can feed their cats the food they love and still provide them with the nutrition they need with the 9Lives Advanced Nutrient System, which is sure to help keep your cat -and your budget – happy. Keep reading on how you can get the inside scoop on feline nutrition.

In a recent survey of feline pet parents across the country commissioned by 9Lives found that an overwhelming 94 percent of cat owners are confident they feed their felines the most nutritious meals possible. However, nearly half (48 percent) admit they´ve fed their cats table scraps – which do not provide the essential nutrients cats need – an average seven times per month. Additionally, only 30 percent know that giving your cat milk may not be a healthy practice due to the common incidence of lactose intolerance in adult cats.1

Additional findings include:

* 23% of American pet parents think it´s beneficial to keep their cats on a purely vegetarian diet, while actually it may be harmful2

* There are a number of foods that feline parents assume are healthy for cats, but are actually not advantageous to their health including root vegetables (73%), green tomatoes (54%), and raw potatoes (50%)3

* Nine out of ten feline pet parents would be willing to switch foods if they knew it would provide better nutrition. In fact:

o 92 percent of cat owners would switch foods if it would improve their cat´s health, and

o 91 percent would switch food if they could add years onto their feline´s life
The above information was provided to me from 9lives, they also provided me with a prize pack through MyBlogSpark.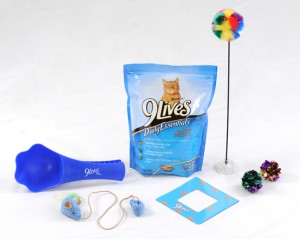 My Thoughts:
We have always been fans of 9lives, after all they say cats have 9 lives :). We have had the opportunity in learning more about feline nutrition, through MyBlogSpark.com, and with the economy the way it is, we often feed our pets table scraps. This maybe a cheap and easy way for us to feed our pets, as well as save on the waste we have. However, this is not healthy for our pets. Some human food is not even healthy for humans, I can only imagine what it is doing to the cats.
Win It:
Thanks to 9lives and MyBlogSparks, I have an additional prize pack to offer my reads. One lucky kitty will get some sweet toys, and some yummy eats. Or cat seemed to enjoy his meal, we even had a few guests.
Mandatory: Head on over to 9Lives website and let me know what product you think your feline would like.
Extra Entries:
2. Become a google follower. (2 extra)
3. Subscribe via email or RSS feed. (2 extra)
4. Become a Facebook fan of TNTIL. (2 extra)
5. Become a Network Blog follower. ( 2 extra)
6. Follow me on twitter. ( 2 extra)
7. Like Morris the Cat on facebook (2 extra)
8. Tweet the giveaway, just hit re-tweet. This can be done daily.
Giveaway ends October 1st @ 11:59pm CST. Giveaway is open to US. I will pick a winner via "And the Winner is" Plugin. Winner will have 48 hours to contact me back and or a new winner will be drawn.
Disclaimer: As stated above I received the same prize pack as being given away here, from 9lives and myblogspark. I received no other form of payment.
Your Winner
(confirmed)
Author: Steph ()
My new cat would like the 9Lives Indoor Complete Cat Food.