Have you ever asked yourself, what your purpose on earth is? I have, I have asked myself this many times. I have wondered how some people are so successful in what they do and why I am where I am in my life. Now don't get me wrong I love my life, I love my husband and daughter with all that I am, but I do wonder how things might have been if I would have went to college and lived out one of my dreams.
I have always wanted to be an investigator in some way; I am big on PI work as well as forensic. I always dreamed of taking that route in my life, but things changed, now I am a stay at home mom. I love being able to stay home with my daughter and raise her in the best way I know. I can still dream though  right, maybe one day I will make this dream come true.
It was not until I started reading "Dare To Take Charge by Judge Glenda Hatchett" when I started to realize many things, in my life I need to change. That my husband needs to change, I know this will not happen overnight, but it is something we both need to think about and work on.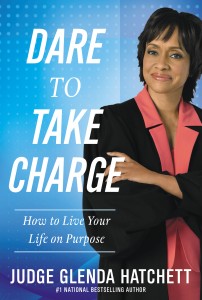 Publish Date:
9/20/2010

Price:

$23.99/$25.99

ISBN:

9781599953304

Pages:

272
To Browse the book, just click on the image to your left.
About The Book:
For nearly ten years, Judge Glenda Hatchett has delighted TV audiences with a brand of justice that turns the everyday into something eminently watchable.

Her message can be distilled into the following two words: Dare Yourself. Whatever obstacles or fears one faces, Judge Hatchett's prescription implores readers to write their own story in this life. With care and conviction, Judge Hatchett uses real life stories from the courtroom and her personal life to counsel readers. Shows them how to find their true purpose and gifts, to be real about their reality and its potential outside of challenging circumstances, and to always be true to themselves.

Interactive as well as inspirational, DARE TO TAKE CHARGE challenges the reader to ask self-reflective questions that lead to moments of self-discovery and a defined pathway to healing. Daring her audience to study the positive with the same interest and intensity that they study the negative, Judge Hatchett uncovers the potential for grace and success in lives that are now punctuated with despair and unfaithfulness.
My Thoughts on the Book:
Dare to Take Charge, I would not consider a book, but a guide on living your life on earth to the fullest. I have always loved watching Ms. Judge Hatchett on the T.V, I would find myself sitting here bawling my eyes out, because of words of wisdom she had just gave to someone in her courtroom. Not only was she sincere then, but she is also sincere in her book.
While reading this book, I found myself stopping often, and saying just what Ms. Judge Hatchett once said, and probably still does, "How dare I". I sit here, and I complain often about parts of myself I want changed, but I do not take action to change them. They will not change by themselves.
Not only did I find Dare to Take Charge, inspirational, I also found it encouraging. That is why I would rather call this a guide and not a book. Since reading this guide written by Ms. Judge Hatchett, I have learned I need to write my dreams down, and go for them. Go for them with everything I have, and live life with a purpose. I need to encourage my husband to live his dreams. I need to support him in his new journey to completing school and getting into a career he LOVES. Not a job he goes to, to make sure we have money each week, but an actual career that he loves doing.
I learned one should love what they do, and do it because they love it, not do it because they have to, to survive. I mean how many of you hate your job. How many of you only go to this job, because you have bills that need paid?
We was all put on this earth for a reason, we should make what time we have here enjoyable right? So let us all take charge and live our dreams.
As Ms. Judge Hatchett says in her "guide to life", do you Dare to Take Charge?  This book will now play a big role in my life it will help guide me through the rest of my journey here on earth.
I have 3 copies of Ms. Judge Glenda Hatchett's book Dare to Take Charge to giveaway to 3 lucky winners. I promise you, you will want to have this book in your collection, to help you find the encouragement to live your dreams, and to live your life with a purpose.
Connect with Ms. Judge Glenda Hatchett:
Website: http://www.glendahatchett.com
Twitter: http://twitter.com/judgeghatchett
Facebook: Judge Glenda Hatchett
Purchase Dare to Take Charge here
Or
You can win it here… 3 lucky readers will receive a copy of Dare to Take Charge by Judge Glenda Hatchett.
Mandatory: Tell me what your dreams are. Maybe you dream of being a doctor, or a teacher. Maybe you are already living your dreams. My dream is to be able to shop in the normal people clothes section at the store. I am getting tired of shopping in the plus area.
Want extra?
2. Follow Judge Glenda Hatchett on Twitter. (2 extra)
3. Like Judge Glenda Hatchett on facebook. (2 extra)
4. Become a Network blog follower. ( Right hand side 2 extra)
5. Become a Google friend and/or subscriber. (1 comment for each you do.)
6. Follow me on twitter. (1 extra)
7. Tweet the giveaway. Just hit retweet above. This can be done daily.
8. Like me on facebook to the right. (2 extra)
Giveaway is open to US residents 18+. Giveaway will close on September 24th @ 11:59 pm CST. Winner will be notified via email and will have 48 hours to respond or a new winner will be drawn.
Disclaimer: Thanks to hachette book group I was able to review this book, I received the said product for review purposes only, this had not effect on this review. No other form of payment was received.
Your Winner
Author: shelly aka allysmama ()
Website: http://sweepnsave.blogspot.com
Comment:

9/20 tweet http://twitter.com/sleatham1/status/25085267657 bleatham*at*gmail.com

Your Winner
Author: Sarah ()
Comment:

I dream of being a gentle(wo)man farmer, with a menagerie of small animals (some for breeding) and just a few crops, something like sunflowers or lavender, for instance.

Your Winner
Author: Donna K ()
Comment:

I follow you on networked blogs.