When Smart Knit Kids contacted me about doing a review, I was a bit unsure what the product was. So, of course I headed on over to their site to see what this new buzz was about. I mean really no seams in socks!
A big issue we have with getting Gillian to wear socks is the seams mess with her, and what do you get when a 9 year old wears shoes with no socks? You get some smelly feet. Therefore, after looking over their site, I emailed the rep back to let her know I was interested in doing the review.
A Little About SmartKnitSocks:
Tired of hearing her son scream "these sock seams keep bugging me," a mom decided something needed to be done.  Every "seamless" sock her son tried had seams in it; there was not a truly seamless sock available.  After explaining the frustrating morning routine to countless friends of her son's struggles with socks, she was finally given the name of Knit-Rite, a textile manufacturer, and contacted them with her request for a seamless kids sock.

After several requests for seamless socks from "desperate" parents, SmartKnitKIDS socks were created.  Knit the same way a caterpillar spins its cocoon, SmartKnitKIDS socks are started at the toe and worked up toward the ankle.  This process insures a 100% seamless sock, so there are no seams to bug ya!  A form-fitting design also keeps those annoying lumps and bumps out of the socks.

Since its launch in 2003, SmartKnitKIDS continues to find new markets and grow every year.  Super soft material and a seam free design make it the most comfortable kid's sock on the market.

SmartKnitKIDS come in a color for every personality: white, black, pink, purple, and navy.  Ankle, crew and knee-high styles are available up to a youth size 8.
My Thoughts:
I truly had a hard time believing they had no seams, when they came I was a bit surprised, they really had no seams. I love the whole concept of no seams, no more wondering which sock goes on which foot, because you can wear it on either foot. I am somewhat jealous I want me some now. These socks are super soft. Gillian was excited when they came, and as soon as I opened the package, the socks went on.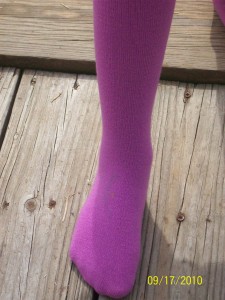 What Gillian Thought:
"Oh my gosh mom, I love these, they are so soft and comfy. I am wearing them to bed."
Sure enough she went to bed with them, I think a lot of why she likes these socks, is because they have no heel. She said the best part, is when you take them off and wash them, you do not have the footprint in them still, so you can wear them however you like. She also, said she doesn't like the writing on top of her feet though, so she wears them on the bottom.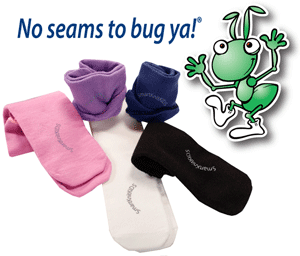 Connect With SmartKnitSocks:
Website: http://www.smartknitkids.com
Blog: http://blog.smartknitkids.com/
Twitter: http://twitter.com/smartknitkids
FaceBook: http://www.facebook.com/smartknitkids?ref=mf
Buy It:
You can purchase SmartKnitKIDS Seamless Socks at a few different online stores. You can find those stores via SmartKintKIDS Site.
Or
Win It:
You can win 3 pairs right here. One lucky reader will win 3 pairs of SmartKitKids seamless socks. To enter for your chance to win all you have to do is follow the mandatory entry,
Mandatory: Head on over to SmartKnitKIDS website, and tell me something you learned. This must be done before any of the extras will count.
Extra Entries:
2. Follow SmartKnitKids on Twitter. (2 extra)
3. Like SmartKitKids on Facebook. (2 extra)
4. Become a google follower. (2 extra)
5. Subscribe via email or RSS feed. (2 extra)
7. Become a Facebook fan of TNTIL. (2 extra)
8. Become a Network Blog follower. ( 2 extra)
9. Tweet the giveaway this can be done twice daily, just hit re-tweet.
Giveaway ends October 2nd @ 11:59pm CST. Giveaway is open to US. I will pick a winner via "And the Winner is" Plugin. Winner will have 48 hours to contact me back and or a new winner will be drawn.
Disclaimer: I received 3 pair of the SmartKnitKids seamless socks, for free to do this review. No other form of payment was received. The above is my daughter and my honest opinion on said product.

Your Winner
(confirmed)
Author: Tim Hughes ()
I like smartknitkids on facebook entry #2