They are lovable, they are huggable, they are squinkable. Yes, I am talking about the awesome Squinkies. Squinkies surfaced in August, and let me tell you they have been the Buzz of everyone. Even the celebs are in awe over these lovable bubbles of surprises.
Gillian and I had the chance to do a review on these new hot toys. We received the Gumball Machine as well as one package of the 16 pack.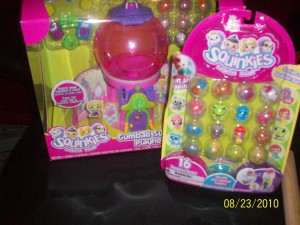 The look on Gillian's face was priceless when we received these in the mail. She was not expecting it at all. We had checked our local Wal-mart only for them to be sold out! I was not mistaken when I stated in a previous post these will be the HOT toy this Christmas season.
According to Squinkies facebook page, they are doing their best to keep these in stock at the stores.
Not sure what Squinkies are?
Squinkies are cute little toys; they come in many styles and colors. You can get cute little horses, dogs, cats, turtles, little kids, and even adorable babies. Squinkies are made out of soft and squishy plastic; there is no latex in these products. They are making all the kids ask for more, and trading the ones they have for ones they do not have.
They are small in size, and the balls they come in will hurt your feet. THESE can be a choking hazard, so make sure you keep these from young children and animals that like to chew on things.
I found only one thing bad about the products we reviewed. After searching the site though, Squinkies addresses that issue in their FAQ. The gumball machine coin gets stuck, we even was trying with pennies and they was also getting stuck. Even though, this was annoying it did not alter the enjoyment Gillian had while playing with them.  Here is what Squinkies says about the small issue we had.
Coins get stuck in the Gumball Surprize Playhouse – It is possible that certain coins included in Gumball Surprize Playhouse can become stuck in the machine if more than 2 are used and not removed from the unit. If you have this problem please contact our customer service for replacement coins. More FAQ…
So the verdict is in and my personal thoughts of the Squinkies:
I think these are a great toy, since doing the review I have purchased another 16 package of bubbles, as well as all 3 of the bracelet sets, and the sea shell set of squinkies. I see myself purchasing even more in time. I feel that Squinkies are not overly priced, and is well worth what I paid for them.
What Gillian had to say about the Squinkies:
I think they are awesome, and I want them all!
We even got daddy to play with them. :)
Purchase Squinkies on Amazon
Disclaimer: We received the Squinkies Gumball Machine as well as a 16 pack of Squinkies, for this review. Since the review we have purchased several other squinkie products.