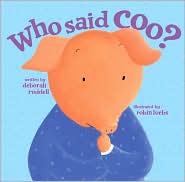 Most little kids love it when you read to them, whether it is before bed or in the afternoons before naps. It is also a great way to cuddle and snuggle with the little ones. We all know they grow up way to fast and soon they will think snuggling is for babies. So parents eat up all the snuggle and cuddle time you can get with the little ones before they think they are to old to be cuddled.
Thank goodness Gillian, who just turned nine still loves to cuddle, and she still loves when we read to her, she likes to take turns, mom read some then she will read some. This is a great way for her to strengthen her reading skills. Most children will start picking up the reading skill the more that you read to them.
When I first got contacted to do a review on a story for younger children written by twin sisters, I could not resist. Even though Gillian is older, I think having these younger age group books around is a great idea, since I have younger nieces who love being read to as well.
Who Said Coo?  Written and Illustrated by twin sisters Deborah Ruddell, and Illustrated by Robin Luebs.
This story is about a pig trying to sleep, but someone keeps waking her up. I can relate to Lulu, it seems whenever I am almost asleep, either my dear daughter wakes me up, or my husband. However, unlike Lulu I do not have to try to find it out, because I know. After Lulu finds out whom, is waking her up she is not to nice at telling them to shh, so this makes for even more noises waking up poor Lulu. She quickly realizes she should have used a different word.
I personally feel this book can send out a strong message to young children, about watching how they word things, because it may upset the person they are speaking too. We as adults also often forget this rule, "Think before you speak". This often results in wording things wrong and hurting the other person's feelings, who we are speaking with.
About the Illustrator and Author: This information comes from Barnes and Nobles
Robin Luebs is the creator of Please Pick Me Up, Mama! and the illustrator of How Do You Say Goodnight? by Raina Moore. She is an award-winning painter who lives in Urbana, Illinois.

Deborah Ruddell is the author of the celebrated picture book A Whiff of Pine, A Hint of Skunk and Today at the Bluebird Cafe, both illustrated by Joan Rankin. Before writing children's books, she was an art teacher and a graphic designer. Deborah lives in Peoria, Illinois. Visit her at www.deborahruddell.com.
A cute trailer that sums up the story nicely:

Authors Revealed: Who Said Coo? Book Trailer Who Said Coo? Book Trailer



Connect with the Author and Illustrator:
Website:
www.deborahruddell.com
www.robinluebs.com/
Purchase Who Said Coo?
Or you could win a copy here.
How To Enter:
Mandatory: Tell me why you would like to win?
Want extra?
2. Become a Network blog follower. ( Right hand side 2 extra)
3. Become a Google friend and/or subscriber. (1 comment for each you do.)
4. Follow me on twitter. (1 extra)
5. Tweet the giveaway. Just hit retweet above. This can be done daily.
Giveaway is open to US residents 18+. Giveaway will close on September 20th @ 11:59 pm CST. Winner will be notified via email and will have 48 hours to respond or a new winner will be drawn.
Disclaimer: I received the said product for review purposes only, this had not effect on this review. No other form of payment was received.
Your Winner
Author: Brooke C
Comment:
tweet http://twitter.com/italiaangel80/status/24761911361