Do you know oral health care for your child is extremely important? Children should brush their teeth at least twice a day. It is also important to make sure you change your child's toothbrush at least every 3 months, unless you notice the bristles are starting to show wear, and then you would want to replace it sooner.
Do you know why it is important to change your toothbrush every 3 months? Because, like everything else, toothbrushes simply wear out and become less effective, and the worn bristles make great breeding grounds for germs, bacteria, and fungus.
Colgate Kids offers some fun products to keep children excited about brushing their teeth. I know with Gillian, she likes having her own toothpaste, and a fun toothbrush. Colgate just came out with a new product line for the kids, one of Gillian's favorites the Littlest Pet Shop line.
Some Colgate Kids products include:
My First Colgate Toothbrush and My First Colgate Infant & Toddler Toothpaste is, recommended for ages 0-2. My First Colgate Toothbrush retails from $2.49, and comes in three different colors.  My First Colgate Infant & Toddler Toothpaste is fluoride free, and safe if swallowed, it retails for $3.49 and comes in a mild fruity flavor.

Colgate Kids My World Toothbrush is recommended for ages 2+, and is designed to allow small children to do it themselves, they come in three different colors, and the twin pack retails for $2.00.

Colgate Licensed Kids is recommended for ages 2 – 8. This line offers, Dora the Explorer, Spongebob Squarepants, Bakugan, and now The Littlest Pet Shop characters. Each character line includes anti-cavity fluoride toothpaste, a battery powered toothbrush and a manual toothbrush. The Colgate Licensed Kids Anti-Cavity Fluoride Toothpaste retails for $2.79, the Colgate Licensed Kids Manual Toothbrush retails for $2.49 for a single pack or $3.99 for the twin pack.  The Colgate Kids Characters Battery-Powered Toothbrush retails for $5.99.

Colgate Pop Stars Anti-Cavity Toothpaste and Colgate Kids 2in1 Anti-Cavity Fluoride Toothpaste is recommended for ages 8-12 and they both retail for $3.29.
On top of all the great products, Colgate has to offer for oral care, they also have a program called Colgate Bright Smiles, Bright Futures. This program has reached over 46 million children in 80 countries! This program is to help promote the importance of oral health through proper education and prevention. In the U.S alone, this program has reached millions of children.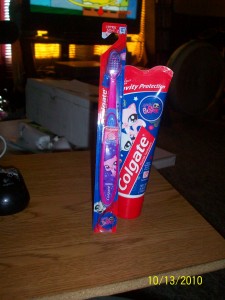 What I Thought:
I am excited that Colgate has finally came out with the Littlest Pet Shop Line, as you can tell Gillian is huge into Littlest Pet Shops. With being the main shopper in the home, I have always purchased Colgate products for our oral health needs. I love the range of products Colgate offers one of my favorite for the adults is the mouth wash. I will continue to purchase Colgate products for my family.
Colgate products would make a great stocking stuffer, with having to change toothbrushes once every 3 months you cannot go wrong by purchasing the Colgate line for your child's stockings.
Connect With Colgate Kids:
Website: http://www.colgate.com/app/Kids-World/US/Kids-Products.cvsp
Play Games:  http://www.colgate.com/app/Kids-World/US/Games-And-Activities.cvsp
Parents Sections: Information about Infants and Children Oral and Dental Health.
Disclaimer: We received The Littlest Pet Shop toothbrush and toothpaste to feature in this years Holiday Gift Guide. No other form of payment was received.