Recently, I had to opportunity to sample some popcorn shrimp from SeaPak. With being on my wonderful diet, this was a no no! However, I could not let me dear daughter eat them all, so I had to sneak a few.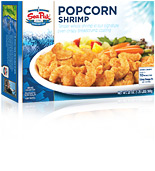 SeaPak products are great for easy meals, or even holiday entertaining. Are you planning to throw a New Year's Eve party, serve up some SeaPak popcorn shrimp, jumbo shrimp, or you could even make some SeaPak Shrimp Scampi for dinner.
SeaPak shrimp helps bring the taste of the coast home to you!
Not only does SeaPak have delicious popcorn shrimp, they also have many recipes on their site that you can make using the SeaPak popcorn shrimp.
One of their recipes that look the best to me is their, Fiesta Shrimp Tacos. Of course they have tons more recipes, but that looks the best to me.
What I Thought of SeaPak:
The popcorn shrimp that we tried was yummy, I am not to big on seafood, but I do love popcorn shrimp. One thing I hate about eating fried foods that have been frozen, if you can taste all the grease, and it leaves a mess all over. With Seapak I did not have that problem, yes there was some oil, but not over board to where you couldn't taste the flavors of what you was eating. I was only able to eat a few, but my daughter loved them!
Disclaimer: I received one free product coupon. No other form of payment was received.