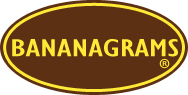 About the Creators of Bananagrams:
Abe Nathanson and his daughter, Rena, along with his grandchildren Aaron and Ava, invented Bananagrams while spending the summer of 2005 together at a beach house in Narragansett, Rhode Island. The whole Nathanson family is involved in the business of the growing game. Rena and her family reside in the U.K.; the company headquarters are in Providence, Rhode Island.
About the Author:
Joe Edley lives for word games. He's an expert Bananagrammer and the author of Bananagrams! The Official Book and More Bananagrams! Since 1988 he's been the Director of Clubs and Tournaments for the National Scrabble Association. In that role, he has created thousands of word puzzles to entertain the readers of Scrabble News. Joe also writes a syndicated newspaper column, "Scrabblegrams," and teachers at Scrabble events across the country.
I first learned of Bananagrams last year, I remembered thinking about how neat it would be to use the game with part of our schooling. With being a home schooling family, we love neat fun things to make learning fun instead of so blah. So we purchased it for our daughter and we would not only use it as the game, but we would also use it to practice her spelling words.
Gillian would often get the game and sit down, and make different words without being told to do her spelling, this was a score for both of us, she was learning, and I didn't have to fuss.
Recently, I was introduced to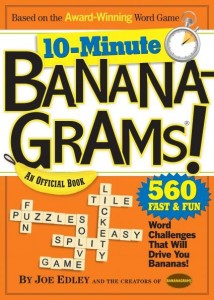 10-Minute Banana-Grams! I am the type of person, where I like a challenge. When we received 10-Minute Banana-Grams! in the mail, I sat down, opened the book and thought HAHA this will be easy. First 2 words I got fast, then I found myself saying wtf, so like all game books I looked in the back to see if there was a cheat, cheat back there, and SCORE. So now I see the word, and I am like omg, I cannot believe I missed that!
Guess what? Bananagrams has two new games.
Bananagrams, the creators of Bananagrams®, the international award-winning anagram tile game named Toy Fair 2009 "Game of the Year," announced today the launch of two new word games: APPLETTERS™ and PAIRSinPEARS™.
Let me say both of these games are super fun! Gillian had me playing forever.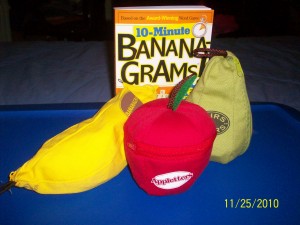 Both APPLETTERS and PAIRSinPEARS have several different games you can play with the tiles, or if you are a home schooling family like us these are great for spelling.
Connect with Bananagrams:
Website: http://bananagrams-intl.com/index-us.asp or http://www.workman.com/products/9780761160861/
Play Bananagrams on Facebook: http://apps.facebook.com/bananagrams/
Purchase Bananagram Products: APPLETTERS and PAIRSinPEARS retail for $15.99, Bananagrams retails for $14.99, and 10-Minute Bananagrams retails for $8.99. To see if a store near you carries the Bananagrams product you can search via the Bananagrams website.
Downloads: You can download free bananagram games from here.
Win it: One lucky reader will win APPLETTERS, PAIRSinPEARS and 10-Minute Bananagrams, these make great gifts for those who love all things words, as well as the homeschooling family.
Mandatory: Head over to the Bananagrams website, and tell me the closest store you can purchase these great games in. Did I tell you they have won several awards!
Want Extras?
Become a google friend of The Neat Things In Life. (2 Extra)
Subscribe via email or reader to my blog. (2 Extra)
Become a Network Blog Follower right hand side. (2 Extra)
Fan The Neat Things in Life on Facebook. (2 Extra)
Add this giveaway to any giveaway site. (1 for each make sure to leave the link so I can verify)
Tweet the giveaway this can be done daily. (1 tweet per day)
RT @Jammie79 Everyone loves words enter to Bananagram Products http://www.theneatthingsinlife.com/?p=3711
Giveaway will close on December 12th @ 11:59 pm CST. Winners will be notified via email and will have 48 hours to respond or a new winner will be drawn.
Disclaimer: I received product for review purposes only, no other form of payment was received, these are only my opinions and others may vary.