DYMO offers a wide range of products to help make doing your job a bit easier. Whether you work in an office, warehouse, in the classroom, or at home. DYMO products will help simplify your tasks, while making you look more professional.
Recently, I had the opportunity to review the DYMO LabelManager 260P. Now let me start by saying I am completely unorganized, we are a home schooling family, and I have school supplies just about everywhere. So, I was pretty excited when I heard I was going to review the DYMO LabelManager this means I can get a little bit more organized. Woohoo.
A little about DYMO LabelManager 260P:
The new DYMO LabelManager 260P and 360D label makers make looking professional one less thing on the workplace 'to-do' list by offering fast, uninterrupted labeling both in the office and on-the-go.

With added features, lithium-ion rechargeable battery technology and a sleek, compact design, the new DYMO LabelManager 260P and 360D label makers help to increase overall efficiency. These DYMO LabelManager label makers are lightweight, have a large viewing screen to preview labels before printing, plus easy-to-use keyboards and one-touch printing that allows for fast, efficient labeling of files, binders, folders and more. These new label makers help make everyday office tasks easier from start to print.

LabelManager® 260P

Lithium-ion rechargeable battery technology eliminates AA battery inconvenience, waste and disposal
Large viewing screen with two-line text display allows user to see exactly what their label will look like before printing

Prints professional quality labels on 1/4", 3/8" and 1/2" easy-peel split-back DYMO® D1 labels
Includes separate set of keys for numbers, allowing for faster typing
Features quick access buttons for punctuation and symbols
Allows user to customize labels and add emphasis with three font choices, six font sizes, seven text styles, boxes and underlining
Memory stores up to nine labels and is capable of inserting saved text
Prints up to 10 copies of one label

·         Sleek, compact and lightweight design, allowing for fast, uninterrupted labeling whether in the office or on-the-go
What I Thought: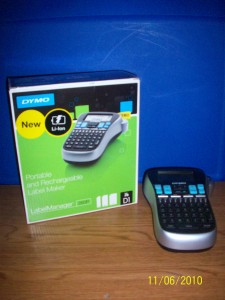 Whew label machines have come a long way since when I was younger. I remember my mom having a label maker she had to feed some sort of sticky stuff through, and if you didn't do it right it would clog the label maker, what a pain. When I first got the DYMO LabelManager 260P in the mail the first thing I did was start playing around with it. I felt like a little kid with a new toy. I made a label for my daughter to put on her computer so she would know how much her momma loved her, I put labels on the draws of my desk, and I used the cute little butterfly and heart cliparts. Love the cliparts, makes everything look so pretty.
I even let Gillian check it out, she made me a few labels to put on my laptop, she wanted her momma to know she loved her to.She even made some labels to put on her bunnies cages, so they wouldn't feel left out.
One of the main features I loved about the LabelManager, is the fact it is portable, and comes with a rechargeable Lithium-ion battery. I think everything should come with rechargeable batteries!  I also like how the sticker part is split in the middle, I dislike having to get a corner free to remove the backing from a label. Since I have received the DYMO LabelManager 260P, my desk is more organized, my spices are labeled, I still need to label my dear daughters dresser, and from the looks of it the dear husbands as well.
Maybe if I am lucky the labeling of clothes draws will help keep clothes neatly folded on the inside instead of pushed every which way then thrown back in the draw.
The DYMO LabelManager 260P
would make a great gift for him or her, and retails for $65.99. It can be purchased from Amazon
, or most office supply stores.
Connect With DYMO:
Website: http://www.dymo.com
Disclaimer: I received the DYMO LabelManager 260P for review purposes only, no other form of payment was received. Everything I stated is 100% my honest opinion.