What Are EZ-Sox?

EZ SOX are fun learning socks for children and a helpful teaching tool for parents.

It helps build the confidence that pre-schoolers need as they learn to dress themselves.



EZ-Sox are designed for boys and girls age 2 – 5, they come in several different animal designs to help teach children the proper way of putting on their socks. Recently, I was asked if I would like to review a pair of the EZ-Sox, well unfortunately, I only have one child and she is a bit to old for the EZ-Sox, so I asked Sherri from Her Random Thoughts if she would like to do a review, and guess what she said yes! Below is what Sherri thought of the Ez-Sox.

What Sherri Thought:
I recently received a pair of EX Sox to try. My test subject was my three year old grandson, Duncan, who was very excited to get new green socks
The socks look very well made with no seams in the toe and they have a non-skid bottom to keep little ones from slipping on slippery flooring. The fabric that they're made of is soft and smooth and it feels like it would stay that way after a few washings. Cotton socks tend to get a little rough over time with regular washing.
I liked how the sock fit smoothly over the the foot especially at the toe, I know that it has to be more comfortable than other socks. Tube type socks are often uncomfortable for little ones because the fabric is too thick and can bunch up once they put their shoes on. I know our little one has complained of his socks not feeling right.
The socks were very easy for him to put on. He actually put them on pretty quickly without any struggling and he got them on right the first time. And he didn't seem to mind putting these socks on and seemed proud of himself when he got them on the right way.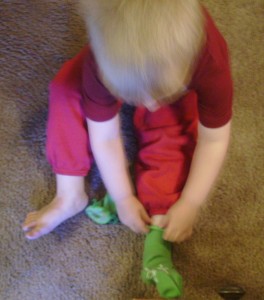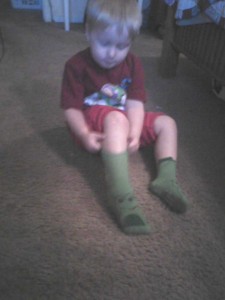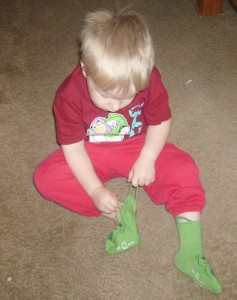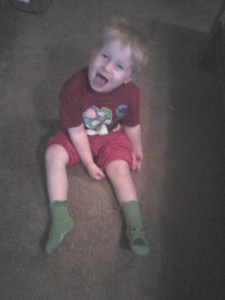 With regular socks, they can put them wrong on with the heel on the top of their foot, etc, but sinceEZ Sox have the animal faces on the top, it's easy for little ones to get it right.
The loops on the side of the socks make it easy for children to pull the socks up. And when they say they are reinforced, they mean it. When my grandson put them on, he was really pulling on those loops. I was afraid that they would stretch, or that the stitching might tear, but it did neither. These socks are very well made and easy for children to put on. Being able to do put their socks on by themselves helps children to gain independence and confidence.
I would definitely recommend this product. The socks are both durable and easy for children to put on.
My grandson loved that they had a frog on them and that they were green, which he said is his favorite color.
If you want to get more information about EZ Sox, or place an order, visit: http://www.ezsox.com/
Connect with EZ Sox:
EZ Sox Official Site: http://www.ezsox.com/
FaceBook Fan Page: http://www.facebook.com/pages/EZSOX/169473157313
Twitter: http://www.twitter.com/ezsox
YouTube: http://www.youtube.com/ezsox
Purchase: You can purchase Ez-Sox on their site for $4.99 a pair of 6 for $29.94.
Win It: You can win a pair of EZ-Sox right here.
Mandatory: Head on over to the EZ-Sox site and tell them what socks you liked or something that you learned about the company.
Want Extras?
Follow EZ-Sox on Twitter. (2 extra)
Like EZ-Sox on Facebook (2 extra)
Follow Sherri on twitter. (2 extra)
Become a Google Friend of Her Random Thoughts (2 extra)
Like/follow/subscribe to The Neat Things in Life (2 extra for each you do.)
Tweet The giveaway (this can be done daily.)
RT @Jammie79 Enter to win a pair of @ezsox http://www.theneatthingsinlife.com/?p=3535
Giveaway is open to US residents age 18+. Giveaway will close December 12th at 11:59pm CST. Winner will be selected via the plugin and the winner is and emailed. Winner will have 48 hours to respond or a new winner will be drawn.
Disclosure: As stated above Sherri received a pair of EZ-Sox for review, no other form of payment was received, this did not change her opinion on the socks.