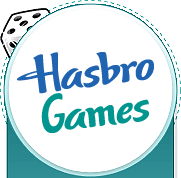 Hasbro has been a favorite in our family for many years. Whether we are looking for fun new exciting games to play with our daughter such as, Sorry! Spin, Twister, and the all time favorite Monopoly, or looking for new Littlest Pet Shop toys for our daughter, Hasbro has never failed us.
Recently, we got to check out Sorry! Spin, and I have to say this game has brought many hours of fun so far. Gillian and I like sitting on the bed before we say our good nights and playing a quick fun game. Okay it doesn't end up being quick, it ends up being several games, and a lot of talking smack.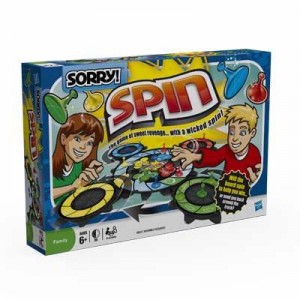 About Sorry! Spin:
The twists and turns never end in this fun game! Just like in the classic SORRY game, your goal is to get your pawns back to their same-colored home. But watch out: in the SORRY SPIN game, if you draw a Spin Card, the playing board turns and you could end up getting closer to your goal — or whizzing right past it! In a SORRY SPIN showdown, revenge is sweet…unless the board spins and the revenge is on you!

Includes 5 rotating game discs, 5 plastic cogs, 4 plastic arms, 4 rubber feet, 1 plastic base, 16 pawns (4 of each color), 42 cards and instructions.

Adult assembly required. For 2 to 4 players. Ages 6 and up.
What I Thought:
I loved Sorry! Spin, I remember when I was younger having family game night with my family on Thursday nights, always breaking out different games through out the month. Family game night was not just one game, one round. It was many different games for hours. We would have dinner then after the dinner mess with cleaned up, it was time for quality time together with the family. Now days it seems the world is spinning faster, and families don't have time to sit down and enjoy each others company.
It is time we as families, sit aside one night a week, to have some family fun, and to reconnect, and catch up with everyone. Times together like this really are priceless, and they will give our children years of memories to share with their children and to hopefully do a family game night as well.
What I loved the most about Hasbro Sorry! Spin, is it really gives a new twist to the original Sorry game. Gillian loves it when I am almost ready to head home, and she spins the darn board on me.
Hasbro games make great Christmas presents, whether given as family gifts or gifts to individual children.
Connect With Hasbro:
Website: http://www.hasbro.com
Purchase: You can purchase Sorry! Spin for $24.99 on the Hasbro's site, or at most major retailers, such as Wal-Mart, and Target. Also, be sure to check out all the other great products, made by Hasbro!
Disclaimer: I received Sorry! Spin for review purposes, no other form of payment was received, This did not effect my opinion on this game or Hasbro.