Not much longer and it will be time for Santa to stuff those stockings. One thing I love seeing Santa leave for Gillian, is Hershey Candies. YUMMY.
Hershey has been a favorite of many for a long time. Our favorite are anything peanut butter, love when Hershey has the limited time treats, such as the peanut butter Christmas trees at Christmas, and the peanut butter eggs at Easter.
Did you know Hershey's started in 1894?
The Hershey Company (originally Hershey Chocolate Corporation) was organized under the laws of the State of Delaware on October 24, 1927, as a successor to a business founded in 1894 by Milton S. Hershey. For more information on the history of Hershey, visit The Hershey Company website.
One thing I love about Hershey's is they are always coming up with new products. Sure their old products are just as good, but we all love trying new treats. This year Hershey has included several new products to their Christmas line.
These new products include:
NEW – 1.45 oz Seasonal Hershey's Kisses Brand Solid Milk Chocolate Santa Hat
NEW – Hershey's Cookies 'N' Crème Santas 6-Pack
NEW – Hershey's Cookies 'N' Crème Santas Bag
NEW – Rolo Reindeer Cane
NEW – Hershey's Pot of Gold Truffles Sampler
Recently, we had the opportunity to have a sample of the new Hershey candies making their way to the shelves of most stores this holiday season.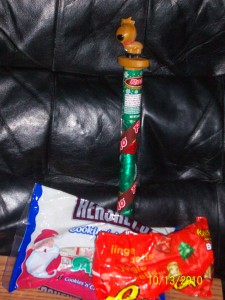 Of course Hershey, did not fail us when it came to quality and taste of their holiday treats.  Gillian's favorite was the Hershey's Cookies 'N' Crème Santas Bag! Mom and Dad's favorite was the reeses bells, and look at that cute reindeer! Gillian is saving him to add to the Christmas tree this year.
However, not only does Hershey's make wonderful goodies, they also have several craft ideas, recipes, and fun stuff on their site! Whether you are looking for a holiday screen saver, or wanting to print out free gift tags, or make some yummy treats to hand out as gifts, Hershey's has your back this holiday season!
Not only do Hershey's make great treats, you can also use them for baking, and decorating. Nothing is more welcoming then a glass bowl on the table full or colorful Hershey Kisses. Hershey products can be purchased at most stores, and the price's vary.
Connect With Hershey's:
Website: http://www.hersheys.com/
Facebook: http://www.facebook.com/HERSHEYS
Disclosure: We received a few different types of product from Hershey's. This did not change my outlook on the Hershey's company or their products!