With Christmas, not far away it is really start time to start thinking about what we are getting everyone. However, kids can have too many toys! I love getting Gillian, things that are educational, and that will keep her asking questions! A child really cannot ask too many questions, how do we expect them to learn if they do not ask questions about things that amaze them.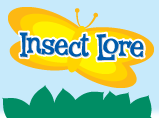 I recently had the opportunity in doing a review for Insect Lore. First, let me say I LOVE Insect Lore! That is the honest truth. They have so many awesome things for a child to do and study. They are truly a home schoolers haven. Whether you are wanting your children to learn the process that a butterfly goes through, to become a butterfly, or whether you are wanting them to learn all about worms. Insect Lore has pretty much everything!
About Insect Lore:
Insect Lore was founded in California's San Joaquin Valley by Carlos White, an entomologist. He had an idea to create a kit through which people of all ages could witness the metamorphosis of a real, live butterfly. It seemed like a great idea – but the key to its success would be to create a recipe for caterpillar food. This would enable the caterpillars to eat and get enough nutrition to become healthy adult butterflies. How hard could that be?

As the next three long years of trial and error proved, quite hard indeed. Mr. White finally came up with a successful diet for the Painted Lady butterfly caterpillars in 1969. It was then that The Butterfly Garden was born. The concept was simple: butterfly lovers would go into a store and purchase The Butterfly Garden which included a certificate that could be mailed to our "butterfly nursery" in order to receive live caterpillars. The caterpillars would be shipped to the customer in a special jar that included Mr. White's unique caterpillar food. In time, the caterpillars would eat the food, change into chrysalides, and finally emerge as adult butterflies in The Butterfly Garden hatching box. After a few days of observation, the butterflies would be set free – delighting both the customer and the butterflies. Read More
We chose the Fiddler Crab Kit to review. At first Gillian, and I was a bit scared to pick them up, I didn't want to get my finger pinched off or anything. So, Gillian got brave and she picked one up and got super excited, she said the pinching of the females just felt like scratching, and the boys pitch hurt a little bit.
The kit arrived super fast, and in the kit we received 7 crabs, the housing for the crabs, food dish, water container so they can have a place to get wet, sand, food, and salt. Everything we needed to take care of our new pets. This kit comes with 6 crabs, but the paper that came with it said they may send extra in case one may die while getting to us in the mail.
I have these little guys and girls sitting on my desk, and it is super neat to sit there and watch them play. Gillian will sit there at the desk and play with them for several hours at a time, they have started to get use to her little hands popping up in their home.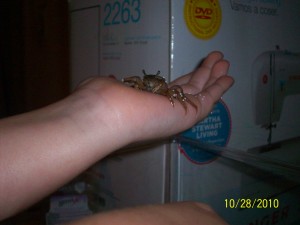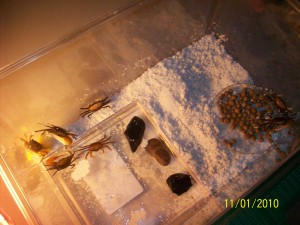 This cage does come with a lid, I had just cleaned their water so we was playing with them for a bit before I put their lid back on.
My Thoughts:
If you could not tell, I am extremely please with both the quality of the product as well as the educational aspect of Insect Lore. We will most definitely be making purchases from them in the future!
Purchase Insect Lore Products: You can purchase Insect Lore products from their site, the Fiddler Crab Kit that we reviewed retails for $69.99.
Connect With Insect Lore:
Website: http://www.insectlore.com/
Facebook: http://www.facebook.com/insectlore
Twitter: http://twitter.com/insectlore
GREAT NEWS one of my lucky readers will have the chance to own some fiddler crabs of their very own! Insect Lore is giving one of my readers the same kit I reviewed. What an exciting Christmas present for someone! This kit retails for $69.99 and comes with everything you need to house and care for your new pets.
Mandatory: Head on over to Insect Lore and tell me something you learned or something else you would love to get. THIS MUST BE DONE FOR ANY EXTRAS TO COUNT!
Want Extras?
2. Follow Insect Lore on Twitter. (5 extra)
3. Like Insect Lore on facebook. (5 extra YOU MUST POST ON THEIR WALL letting them know The Neat Things in Life sent ya)
4. Become a Network blog follower. ( Right hand side 5 extra)
5. Become a Google friend and/or subscriber. (2 comment for each you do.)
6. Follow me on twitter. (2 extra)
7. Tweet the giveaway.This can be done daily.
Rt Enter to win a Fiddler Crab Kit from @Jammie79 and @insectlore http://bit.ly/cDDnGx
8. Like me on facebook to the right. (2 extra)
9. Add this giveaway to any giveaway site/linky. (2 extra for each one done)
10. Comment on any other known giveaway post and let me know which ones. (1 comment extra per post)
Giveaway is open to US residents 18+. Giveaway will close on November 23th @ 11:59 pm CST. Winner will be notified via email and will have 48 hours to respond or a new winner will be drawn
Disclaimer: I received a fiddler crab kit as stated above, I received no other form of payment, everything in this post is 100% my honest opinion.