Not much longer and 2011 will be here, and it will be time for a new calendar! PromosOnline, has some awesome calendars.
Before we started schooling at home I used the computer to tell me the day, now that we home school and I am doing more and more things on my blog, having a calendar is a must. Matter of fact I have a few different calendars, one I use to manage our money and bills, the other for Gillian's schooling, and another for different appointments or deadlines I may have coming up.
You can never have to many calendars, well I can't anyways!
Recently, I got to check out The Saturday Evening Post, and I love all the pictures in it. Some might think, it is just a calendar as long as it tells you the day. Well, if I am going to have a calendar hanging on the wall, I want it to be something that is not an eye sore.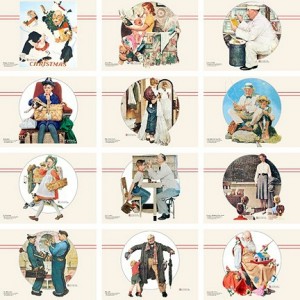 This calendar also has an area on the back for you to put important numbers, such as the fire department, the police, the dentist office etc.
Connect With Promos Online:
Website: http://www.promosonline.com
Facebook: http://www.facebook.com/pages/PromosOnline-Promotional-Products-Online/
Twitter: http://twitter.com/promosonline10
Thanks to Promos Online, I have another FULL SIZE Norman Rockwell Saturday Evening Post calendar to giveaway to one lucky reader.
Mandatory Entry: Head on over to Promo Online, and tell me something else you like.
Want Extra?
2. Follow Promos Online on Twitter. (5 extra)
3. Like Promos Online on facebook. (5 extra)
4. Become a Network blog follower. ( Right hand side 5 extra)
5. Become a Google friend and/or subscriber. (2 comment for each you do.)
6. Follow me on twitter. (2 extra)
7. Tweet the giveaway. ( Once Daily)
Enter to win a Promos Online Calendar @Jammie79 http://www.theneatthingsinlife.com/?p=3373
8. Like me on facebook to the right. (2 extra)
Giveaway is open to US residents 18+. Giveaway will close on November 22th @ 11:59 pm CST. Winner will be notified via email and will have 48 hours to respond or a new winner will be drawn
Disclaimer: I received calendar as stated above, I received no other form of payment, everything in this post is 100% my honest opinion.