I love GourmetGiftBaskets.com, I had gourmet treats one time prior to trying GourmetGiftBaskets goodies, and I remember telling my husband how gross it tasted, and I could not believe rich people liked that stuff. That is how bad it was, I first tried GourmetGiftBaskets during Father's Day, and I was more then just impressed, it was then, I seen what people liked about those yummy treats.
Recently, I had the chance to sample another great gift basket from GourmetGiftBaskets.com and I have to say I was double impressed. We got to check out the Nutcracker Drum Christmas Gift Basket.
Doesn't that look so yummy, and BEAUTIFUL! GourmetGiftBaskets.com send their baskets nicely wrapped so that they do not spill over and come looking awful.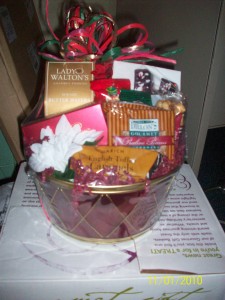 Goodies in the Basket Include:

· Red Nutcracker Cookie by Nikki's Cookies – .75 oz. – An all natural sugar cookie covered in dark chocolate, shaped like a nutcracker.
· Green Nutcracker Cookie by Nikki's Cookies – .75 oz. – Another chocolate nutcracker cookie of Nikki's boasts ingredients like Wisconsin farmer's butter.
· Chocolate Peppermint Cookie Brittle by Holly Baking Co. – 6 oz. – This amazing delicacy has a cookie taste and brittle crunch, covered with chocolate and peppermints.
· Peanut Brittle by Old Dominion Peanut Company – 10 oz. – A staple holiday treat, this Old Dominion Peanut Brittle will leave them wanting more!
· Butter Wafers by Lady Walton – 2 oz. – Light and decadent, these Butter Wafers are melt in your mouth delicious and are perfect for our holiday baskets.
· White Chocolate Amaretto Filled Wafers by Lady Walton – 2 oz. – White chocolate and amaretto give an indulgent twist on a classic favorite.
· English Toffee Caramels by Marich – 2.1 oz. – Milk chocolate surrounds toffee flavored caramel. Do we need to say more?
· Peanut Roll by Dillon's Gourmet – 3 oz. – Sweetly salty roasted peanuts and rich caramel encompass a nougat center of heaven.
· Praline Pecans by Dillon's Gourmet – 2.5 oz. – This creamy pecan delight is a Southern, old fashioned recipe and that's why you'll see it so many of our Christmas gift baskets.
What I Thought:
I never thought I would say this BUT, I have found a cookie BETTER then the girl scouts thin mint cookies. The Chocolate Peppermint Cookie Brittle is by far the BEST mint cookie I have ever had, and the chocolate covers peanut brittle, I thought I was in Heaven for a minute. I had to make my daughter take it from me because I was having a hard time just saying no!
Once again GourmetGiftBaskets.com did not fail me, my husband says the White Chocolate Amaretto Filled Wafers are a bit to sweet for him, but I thought they was amazing.
Connect With GourmetGiftBaskets:
Website: http://www.gourmetgiftbaskets.com
Twitter: http://twitter.com/gmtgiftbaskets
Facebook: http://www.facebook.com/gourmetgiftbaskets
You can purchase the Nutcracker Drum Christmas Gift Basket on GourmetGiftBaskets.com for $49.99. I recommend you to also purchase one for yourself. You will LOVE the peppermint cookies :)
Disclaimer: I received this gift basket for review purposes only, no other form of payment was received. This is my honest opinion.