Product Details:

Key Features

Dora the Explorer Snapshots software to get photos and videos from your camera, manage and organize your images by creating albums, edit images using automatic and manual tools.
Works as a Webcam on Windows and Macintosh computers
3 Voice hints that are alternately heard before taking photos: "We did it, yeah!", "Fantastica" and "…giggle…"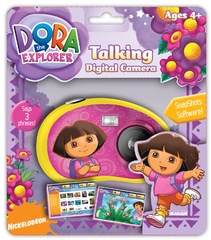 Recently, we had the opportunity to check out the Dora The Explorer Talking Camera. Even though my daughter is 9 she still loves Dora. When you are raised watching certain shows, they tend to stick. I am 31 and still watch the Flintstones!
We have tried the toy digital cameras in the past so I knew that when taking any pictures I should do it outside to get the better quality of the camera, and like the other cameras we have tested the batteries die fast. So when using any digital camera toy, or real I highly recommend rechargeable batteries.
The Talking Dora Camera retails for about $30.
My Opinion:
To me the software that came with it is worth the price of the camera. I love playing with my pictures and adding different designs and clip arts. I loved the software that came with it, and all the cute dora clip arts. The software also has different frames, and templates to make stickers, and you could also make some cute name tags, and address labels with Dora.
The picture quality also was not to bad for a child camera. Of course it was not crystal clear, but it is for the little ones.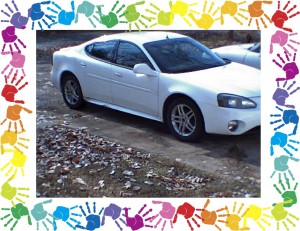 The above picture was taken with this camera, the frame is also a frame from the software that came with the camera. Overall this camera for being a toy takes decent pictures when outside, and would be perfect for the little ones to feel big!
Disclosure: I received a sample for review only, no other form of payment was received, this is my opinion, yours may vary.