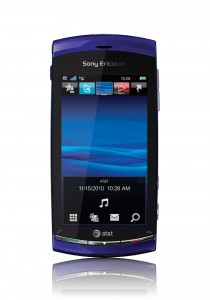 Let me start by saying this my first smartphone. I remember when I was about 19 I got my first prepaid cellphone, and I thought I was just awesome. The cell phones back then was about as big as a cordless house phone. I looked kind of funny carrying it, but hey I had a cellphone at least!
Cell phones have come a long way since then. Now they are fun and sleek, and you can do so much more on them. Who would have thought one day you could use your cellphone, kind of like your computer.
Recently, I had the opportunity to review my first smartphone, the Sony Ericsson Vivaz. I really didn't know what to think about it when I first received it. I charged it up all the way and got to playing around. This phone is pretty neat, I was laying in bed searching youtube, and on facebook via out wireless internet.
Hey I can get us to having a smartphone, now I can check my emails before ever getting out of bed.
A little about the Sony Ericsson Vivaz:
Vivaz Key Features

Users can capture spontaneous moments and memories instantly with a two quick camera keys – video and photo
Pre-loaded links to YouTube and Picasa that make it easy to upload HD videos and high resolution photos for sharing
Facebook and Twitter applications
Wi-Fi
Stereo Bluetooth wireless technology
Vlingo – voice recognition for searching the Web, composing messages and more

·         Available at AT&T for $79.99
What I Thought:
As I said previously this is my first smartphone, so I can not compare this to any other smartphones. This is my honest opinion on the Sony Ericsson Vivaz. There is many features I love on this phone, as well as some things I dislike about this phone.
Pros: The picture quality is awesome, with the 8.1MP built in camera, this makes taking some great pictures, now like most cameras, movement will make the picture not come out clear. I love the fact I actually get some what of a decent signal. If I place my old phone and the Vivaz side by side, the Vivaz has bars and the old phone does not, I do not seem to miss many calls now. I love the music player on this phone, and the fact I do not need no connector to hook up headphones, this makes this phone great for working out.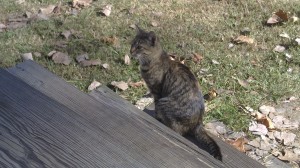 Cons: Most everything has cons, and there is some issues I have been experiencing with this phone, and if I didn't include them in this review, then it would mean I wasn't being honest, and I want to be 100% honest with my finds. I have been using the phone for about 3 weeks. I have experience the battery life to not hold up to the what the site stats, at first we was playing with it a lot so I was needing to charge it normally. However, it seems like now I am having to charge the phone everyday even if I only use it for less then an hour. One morning I woke up to find a completely dead phone, after placing it on the charger for 30 minutes or so I tried to turn on the phone with having no luck. I almost thought the phone had died for good. After messing with the phone it finally came back on after close to an hour. I will go to bed and have over a half of battery charge only to wake up with it being almost dead. I know I am not sleeping 13 days! I may have a bad battery! Also, the phone does freeze up every so often and I have to remove the battery to get it to do anything else.
UPDATE: After using this phone for several months I have come to the conclusion the operating system Sony uses is junk. The phone crashes  A LOT, the text messaging is not so easy after using the touch. I have a hard time getting text messages, when ever one comes through the phone crashes. I have to power it off to get it to boot back up.
Other then all that I personally like the phone, it does get annoying having to charge it nightly, and I may have to see about purchasing a new battery to see if that solves the issue. But the picture quality is great, and it connects to my wifi so that makes it even better.
You can purchase the Sony EricssonVivaz for $79.99 when you purchase a new contract through At&t.
Disclaimer: I received the Sony Ericsson Vivaz for review purposes, no other form of payment was received, this is my honest opinion.