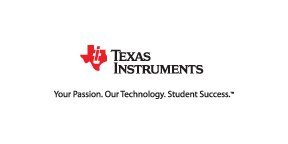 Who said Christmas had to be all about toys? Texas Instruments, has a new handheld graphing calculator, that would make the perfect gift for any middle to college age student. It would also make a great gift for those professionals, working in the science, math, engineering and technology fields. With its easy-glide touchpad, and the ability to hook it to your computer to have a bigger working screen the TI-Nspire would make the perfect gift this holiday season.
More About The TI-Nspire:
Independent research shows that students who regularly use handheld graphing calculators like the TI-Nspire understand underlying mathematics concepts better than students who do not. This improves student performance in school, which results in higher grades and increased self-confidence.

A few features and benefits, in addition to the touchpad:

— The ability to show math problems four ways – as graphs, tables, equations or text problems – at the same time, on a single screen

— A scratchpad that lets users perform quick calculations without opening a new file

— An enhanced home display with menus and clickable icons for easier navigation

— A streamlined keypad with alpha keys located at the bottom for texting

— Software that allows users to transfer work between the handheld and a laptop or home computer so they can see and work on problems on a larger screen
What I Thought:
I have to admit I was a bit lost when I started playing around with the TI-Nspire. However, after playing with it for awhile I caught on pretty fast. I have to say one of my favorite features of this handheld is the fact I can hook it to the computer. After looking at a small screen for too long I start getting headaches.
I also love the fact I can switch keypads! No need to go buy a whole new calculator, the TI-84 Plus keypad will give you all the features from the TI-84 plus. This is like getting 2 calculators in one, and you cannot beat that! The calculator I received to review did not come with the TI-84 keypad, however it showed me how to order one from Texas Instruments for FREE!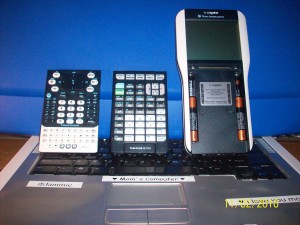 So, with giving the Texas Instruments TI-Nspire as a gift this holiday season you are sure to get your monies worth. This will be a calculator your loved one will be able to use all through middle school to college!
I can not wait until Gillian can start using this Calculator for her schooling! However, for now she is not allowed to, because momma wants her to be able to figure out certain things, by paper and pencil, but then again she is also only in the 3rd grade. Soon though she will be a whiz on the TI-Nspire.
I personally would love to stash this calculator in my purse and use it while shopping, I use a smaller calculator, but sometimes my fingers start moving faster then my brain and I goof up on my numbers, so I have to start all over UGH. With the TI-Nspire I could easily just delete my goof and keep on going. Wonder what everyone would thing if I pulled out the TI-Nspire on my shipping trip to Wal-Mart!
The TI-Nspire is also Permitted on SAT*, AP*, ACT**, IB®**, PSAT/NSMQT**, and Praxis™ exams, as well as many state tests.
Connect with Texas Instruments:
Website: http://education.ti.com/educationportal/sites/US/homePage/index.html
Facebook: http://www.facebook.com/TICalculators
Twitter: http://twitter.com/TICalculators
Purchase: TI-Nspire with Touchpad graphing calculators can be purchased at most major retailers such as Wal-Mart or Best Buy for around $150. Dealer and retail prices may vary.
Win It: One lucky reader will win a Texas Instrument TI-Nspire with Touchpad right here on The Neat Things in Life.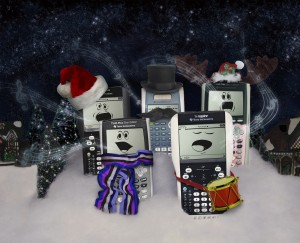 Mandatory: Head over too the Texas Instruments site and tell me something else you learned OR you would love to own. This MUST be different then the person ahead of you!
Want Extras?
2. Follow TICalculators on Twitter. (5 extra)
3. Like Texas Instruments on facebook. (5 extra let them know The Neat Things in Life sent ya)
4. Become a Network blog follower. ( Right hand side 5 extra)
5. Become a Google friend and/or subscriber. (2 comment for each you do.)
6. Follow me on twitter. (2 extra)
7. Tweet the giveaway.This can be done daily.
Rt Enter to win a Texas Instruments TI-Nspire from @Jammie79 and @TICalculators http://bit.ly/b6YPAC
8. Like me on facebook to the right. (2 extra)
9. Add this giveaway to any giveaway site/linky. (2 extra for each one done)
10. Comment on any other known giveaway post and let me know which ones. (1 comment extra per post)
Giveaway is open to US residents 18+. Giveaway will close on November 23th @ 11:59 pm CST. Winner will be notified via email and will have 48 hours to respond or a new winner will be drawn
Disclaimer: I received the TI-Nspire as stated above, I received no other form of payment, everything in this post is 100% my honest opinion.