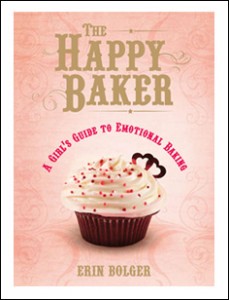 When I first received The Happy Baker: A Girl's Guide To Emotional Baking by Erin Bolger in the mail for review. I started to skim through it and I couldn't help but laugh. The names of these recipes are pretty funny.
We have all been there one time or another, our personal life seems to fall apart, the person we was once in love with broke our heart, and we are having a hard time getting past the bump in the road. What better way to get over the pain then grabbing a bottle of wine and heading to the kitchen.
Not only does Erin share some of her past relationship stories, she also has some great baking tips. I have to admit I am not much of a baker, sure I know how to open a package of cookie dough and plop it on the pan and bake for 12 minutes on 350, I mean who doesn't know how to do that?
In The Happy Baker, Erin shows us how to make some awesome sweet treats, that will help mend the broken heart. After all as Erin says "Dating is hard, baking isn't suppose to be."
However, I personally don't think this is just for those single ladies who keep having relationship issues. Everyday life is stressful, and emotional, and these recipes will also work to help heal some of the pain and frustration. I mean who wouldn't want some "Bite My Peanut Brittle, Bi-Atch"
You can receive 4 sample recipes by visiting The Happy Baker Chick!
Connected With Erin:
Website: http://www.thehappybakerchick.com/
Twitter: http://twitter.com/thehappybaker
Facebook: The Happy Baker Chick
YouTube: http://www.youtube.com/user/thehappybakerchick
Disclaimer: I received a copy free from Harlequin. No monetary or any other form of compensation was received.