Based in The Rift Valley Kenya, East Africa, The Leakey Collection founders Katy and Philip Leakey, combine their talents in interior design and the arts with their love of nature to develop stunning handcrafted products for an international market.

Using natural elements such as fallen wood, grass and porcelain, these renowned designers create unique products while protecting the environment and providing economic opportunity to the local communities. Zulugrass and Zuluwood beads, bracelets and necklaces are sold in stores worldwide. The entire collection is now available on LeakeyLife.com, their online retail site.

From high fashion jewelry to home interior design accessories, The Leakey Collection's natural elegance distinguishes this high end product line as one of the world's premier offerings.
What I Thought:
Recently, I had the opportunity to check out some pieces from the Leakey Collection. When I first got it and pulled, it out I was stunned with its beauty. I think what makes this jewelry even more stunning is the story behind how it came about. Not only is this jewelry made of all natural products, it also gives over 1200 Kenyans jobs.
I received four strands to review, and I wear them as a bracelet, I like the look and the feel. However, you can wear them as a necklace or even hair ties. The Leakey Collection is not just single strands of beads though; they also have earrings, bracelets, sunglass holders and more.
I love companies that use natural products to make more products, and that give back. The Leakey Collection does just that, they use natural products to make beautiful jewelry and they give back to their community and to women in general.
These strands would make a great gift for that special woman in your life, whether it's your mom, wife, sister, teacher, or even your best friend.
More about The Leakey Collection:
Zulugrass concept was born out of need. A devastating drought in Kenya in 2001 forced the men to leave behind the women and children, so they could take the surviving cattle far up country in search of grazing land. As a result, the Leakey's found themselves supporting as many as 100 Maasai families by giving them money for food, school fees, medical expenses and housing. This was not sustainable for either party and the Leakeys knew they had to find another way.

What transpired has become a successful business and philanthropic endeavor for the Leakeys and the Massai people. Distributed to over 1200 retail outlets and available for purchase online (www.leakeycollection.com), the Leakey Collection's Zulugrass jewelry provides beautiful, handmade accessories to brighten a woman's look and offers a sustainable way of life for the nomadic people of Kenya. Not only are the Massai women paid for their work and given the flexibility they need to maintain their jobs, 5% of profits go back to supporting infrastructure in the Rift Valley of Kenya.
However, that is not all, I have 4 extra strands to giveaway to one lucky reader. These strands retail for $12.95 each.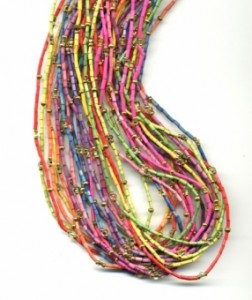 Mandatory: Head over to The Leakey Collections site, and tell me something you like, or learned. Do NOT just copy the person above you!
Want extra?
2. Add this giveaway to any giveaway site/linky and let me know where to find it. (2 extra for each place you add)
3. Friend me on Facebook. (3 extra)
4. Become a Network blog follower. ( Right hand side 5 extra)
5. Become a Google friend and/or subscriber. (2 comment for each you do.)
6. Follow me on twitter. (2 extra)
7. Tweet the giveaway. This can be done daily.
RT Enter to win four strands from The Leakey Collection. @Jammie79 http://www.theneatthingsinlife.com/?p=3189
8. Like me on facebook to the right. (2 extra)
Giveaway is open to US residents 18+. Giveaway will close on November 19th @ 11:59 pm CST. Winner will be notified via email and will have 48 hours to respond or a new winner will be drawn
Disclaimer: I received a four strands of The Leakey Collection as stated above, I received no other form of payment, everything in this post is 100% my honest opinion.