ZILLIONZ™ REAL-MONEY DELUXE Savings Goal ATM retails for $39.99
This deluxe ATM features a single-screen backlit digital display. Just insert the ATM card to activate the screen and view your savings. The coin slot recognizes the value of each coin and the automatic bill feeder accepts real currency. This secure vault is sure to keep your money safe—only you have access with your digital access code. Stand it up or hang on a wall with its built-in wall mount.

FEATURES:

WORKS WITH REAL MONEY
BACKLIT DIGITAL DISPLAY
COIN RECOGNITION
MOTORIZED BILL FEEDER
ATM CARD INCLUDED

AGE: 5 & Up
What I Thought:
I love this ATM machine, I love the fact it recognizes the value of the coins you put in it, I love how it adds up the money and I also love how it has a goal setting feature. Not only is this ATM machine a savings bank it also teaches the child about savings, and how much more and how long they have to go, to reach their goal. When we first got this ATM machine, Gillian gathered all the coins we had and started adding them to the bank. She has also set her first goal, she is wanting to save $50 dollars by Christmas so she can purchase a Littlest Pet Shop house, I have to say she has a long way to go so far, but she is doing good at saving.
She is the type as soon as she has money she needs to go buy something to spend that money. I have been trying to teach her to save for awhile now, and this bank does just that, it lets her see her goal, and how long she has to reach that goal. It becomes a challenge and she loves challenges.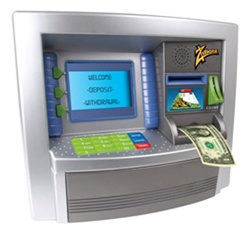 The Zillionz Real Money Deluxe Savings Goal ATM retails for $39.99 and is great for children ages 5 and up. This bank would make a great gift for any child. Not only will this bank act as a savings account for your child it will also help them understand more about saving, and what can come if we save.
Connect with Zillionz Toys:
Website: http://www.zillionztoys.com/
You can purchase the Zillionz Savings Goal ATM Machine from most retailers.
Disclaimer: I received a sample for review purposes only, no other form of payment was received, this is only my 100% honest opinion. Your opinion on this product may vary.