Do you put much thought into a computer when making the purchase? I will be honest, I usually do not, but then again, I have only owned 3 computers in my life time. Our first computer we purchased in 2000, it was an 800mhz desktop. When we first purchased it we was super thrilled, at the time is was super fast. However, as the years passed it seemed like it slowed down.
Then in 2007 I was going shopping for my first laptop. I had in mind the one I was wanting, however the store was out, so I purchased one they had in stock. Big mistake, I am all about pictures and entertainment, and games. This computer was faster then the older one, but I was still unable to do some of the things I was wanting to do.
Recently, I was introduced to AMD VISION Technology. AMD sent me an HP Pavilion dv5 to test out their Premium VISION Technology.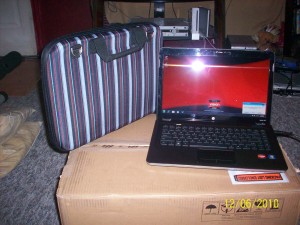 What is VISION Technology?
VISION Technology from AMD is a combination of cutting-edge processing and video power that allows you to experience vivid web and video content, sharp photos and crystal-clear music.

VISION Benefits:

Listen to music
View photos
Watch DVD
Watch movies and online videos
Surf the Internet
Use email
AMD VISION Technology comes in three different packages, Premium, Ultimate, and Black.
VISION Premium Benefits:
Run several applications at once
Play mainstream games
Convert CDs to MP3s
Perform basic photo editing
Watch Blu-Ray/HD movies
Use a webcam
VISION Ultimate Benefits:
Enjoy Blu-ray HD in 3D!
Quickly and smoothly edit HD photos and video
3D gaming is stunningly realistic
VISION Black Benefits:
Full support for Microsoft DirectX® 11
ATI Eyefinity technology: Up to 6 monitors1
Create and manage a massive digital library
Explosive High Definition 3D gaming performance
Create, edit and render memory-intensive HD photos and movies
Fast, multi-core processors
After having hands on experience with AMD VISION Premium Technology, I will never purchase a computer without looking at the labels. Since receiving this laptop in the mail, I have been extremely impressed with how the laptop runs.
My Personal Opinion:
I love how AMD has everything laid out for the consumers, it really makes purchasing a new computer a lot less stressful. With me being a busy home schooling mom, it is extremely important that I have a laptop that gives me the ability to multi-task, and that I can count on to last. After all we do most of our schooling on the computer. Now not only am I able to run Gillian's schooling, I am now also able to work on reviews, and use facebook.
I think the one thing I love the most about the AMD Premium VISION Technology, is the quality of movies, and TV shows, Gillian and I will lay in bed and watch different shows on the built in program that allows us to easily access hulu.com.
I also love the webcam ability, and the software that has came with the computer. Below is a picture of Gillian and I. I took this the other day before going out with a friend.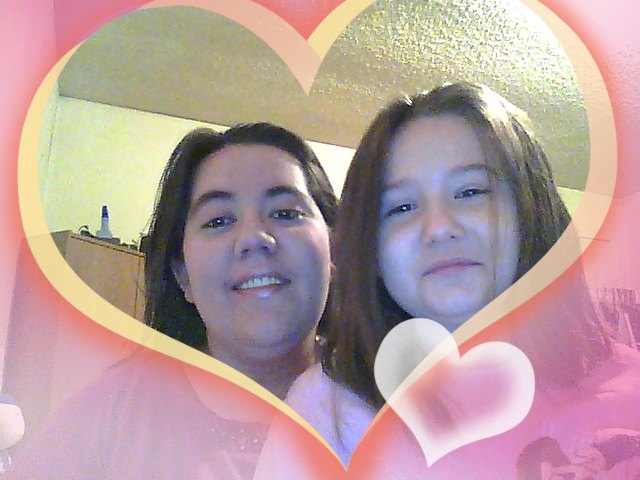 The picture on this laptop is super crisp and clear. Playing games no longer makes me want to scream, because of the slow pace of the computer, and I can honestly say, my browser doesn't freeze no more!
We will be purchasing a desktop with in the next few months for my husband, I am thinking more a long the lines of the AMD Black VISION. He is big into gaming, and I think this would be perfect in every way for him. I am extremely pleased with AMD VISION Technology, and I will be letting friends, and family know to start paying better attention when making big purchases. No one wants to waste money on a computer that is not what they are needing.
Still not convinced that AMD VISION Technology is the way to go? Check out the VISION Interactive Storyteller.
Purchase: You can purchase VISION Technology products where ever laptops, and computers are sold. Prices in computers, and laptops vary from place of purchase, as well as computer brand and specs.
Connect With AMD:
Website: http://www.amd.com/us/Pages/AMDHomePage.aspx
Facebook: http://www.facebook.com/AMD
Twitter: http://twitter.com/AMD_Unprocessed
Youtube: http://www.youtube.com/user/AMDUnprocessed
Disclaimer: AMD sent me the above product for review purposes, no other form of payment was received. Everything stated is my honest opinion, receiving this product did not alter my opinion in anyway.