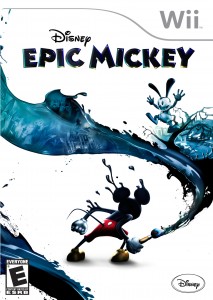 Disney released Epic Mickey about a month ago. After watching the trailers, and the different images I new this game was going to rock. Recently, we was sent a copy to check out.
A Little About Disney Epic Mickey:
Disney Epic Mickey is an action-adventure platforming game for the Wii console that sends Mickey Mouse on an epic journey of creativity and discovery.  As Mickey, the player is propelled into Wasteland, an alternate world made up of Disney's long forgotten characters and attractions, and is given the power to wield paint and paint thinner to dynamically change the world while determining Mickey's path to becoming an epic hero.
My Personal Opinion:
I love the graphics, it is very clean, I am still trying to figure out the game, I am the type that gets mega headaches if I mess with a game for to long, especially when I get stuck and keep running in circles. My daughter however, is a different story, her and her daddy are the huge gamers in the family. I guess you would call me a weakling, as long as graphics are not all 3d I am good for hours, give my head some heavy 3d graphics, that look awesome and my brain can not processes it all and I am stuck holding my head with a mega headache.
Gillian, loves Disney Epic Mickey, she gets on the Wii, and plays for a long time, I am not sure she actually knows what she is doing though, or if shes just running along trying to get treasure. She will get in a bind and not know what she has to do next, and she will pass over the controller to me!
Over all graphics are awesome, game play is great, from what I have seen of it, and daughter and mom still has not beat the game. I am sure if daddy was to sit down he would have the game beat in no time.
Connect With Disney Epic Mickey:
Website: http://disney.go.com/mickey/#/disney-epic-mickey
Facebook: http://www.facebook.com/DisneyEpicMickey
Youtube: http://www.youtube.com/watch?v=JapWSh0voWc
Disclaimer: As stated above we received a copy of Disney Epic Mickey for review purposes.