I love finding neat ways to help Gillian to keep believing in Santa. I know one day she will stop believing, heck she probably doesn't believe right now, but she does a good job and letting me think she believes.
Last year, was the best at keeping her believes in tack. I had won a picture from icaughtsanta.com. Not sure what icaughtsanta.com is? Well it is a site that lets you keep the magic a live. They have 20 different Santa poses to pick from, and adding to an image is super easy.
Below you will see the image we did for Gillian last year!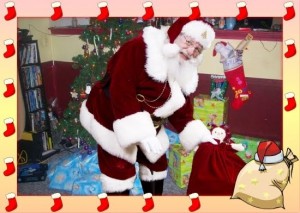 I took and hid it in the tree so when we was taking the tree down she would find it, and sure enough she did and she freaked!
Connect With iCaughtSanta:
Website: http://www.icaughtsanta.com/
Facebook: http://www.facebook.com/pages/I-Caught-Santa-Claus/119762508087530
Twitter: http://twitter.com/catchacharacter/
Buy It:
You can purchase CatchACharacter (Santa, Tooth Fairy, Cupid, Easter Bunny) for $9.99, but you can get 25% off if you use code THE-NEAT-THINGS
Win It:
I have 5 codes up for grabs, yup 5! 5 lucky readers will be able to surprise their child with a picture catching Santa in the act. (The code will be code to use on any of the CatchACharacter sites, so if you wanted to save this code and use it for a different time you can.)
Mandatory: Let me know why you would like to win. That is it nothing to hard.
Please note if it states you get extra be sure to leave extra comments in order for the extras to count.
Want Extras?
Like iCaughtSanta on Facebook. (2extra)
Follow CatchACharacter on twitter. (2 extra)
Fan The Neat Things in Life on Facebook "right hand side" (2 extra)
Become a google follower/subscriber of The Neat Things in Life. (1 extra for each you do)
Tweet the giveaway this can be done unlimited. Example tweet "Enter to win a photo catching Santa in the act http://www.theneatthingsinlife.com/?p=3781 @Jammie79"
Follow me on twitter. Right hand side (1 extra)
Giveaway will end December 22nd, @ 11:59pm CST. Giveaway is open to everyone. Once winners are drawn I will contact them all and they will have 24hrs, to verify their email so I can send over the code. If a winner fails to respond a new winner will be drawn. All my winners are drawn with… And the winner is… Plugin for wordpress.
Disclosure: I received a code as well to bring this giveaway, however it did not have no effect on my opinion.