With only a few more weeks left until the big day, it is really time to stop putting things off and get to shopping! Sometimes though shopping can be more of a chore, then fun, and a lot of times it is hard to buy for some on our lists! That is where The Fresh Market comes into play. :)
About The Fresh Market:
In 1982, Ray Berry and his wife, Beverly, opened a small store dedicated to providing quality foods in a friendly atmosphere. Over the past 25 years, The Fresh Market has grown because of our dedication to our customers who enjoy the same high quality and amiable service we do. With a growing national market, we continue to focus on stellar customer service and strive to keep the specialty neighborhood grocer feeling that our customers have grown to love.
The Fresh Market has a bit of everything, whether you are shopping for the coffee lover, to the one that loves everything healthy. Not only will you find the perfect gift, for that perfect person, you will find it at reasonable prices.
We recently had the chance to sample a gift basket from The Fresh Market. We received Tower of Tweets! This basket is perfect for the peanut lover.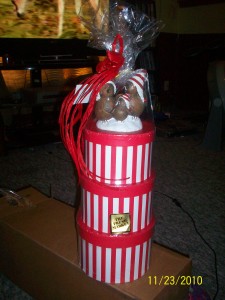 My Opinion:
I love the 3 little birds that was on top of the stack. I also like the 3 different size containers. I will be reusing these to put some baked goods in for my family! The peanuts was super yummy, and the chocolate covered peanut butter filled pretzels was all right. I cannot say they was out of this world, I would have liked for them to have a more of a peanut butter filling inside. However, something kept making my hand reach into the box and get more. So they was still yummy :)
You can purchase Tower of Tweets on The Fresh Markets website, and it retails for $29.99.
Connect with The Fresh Market:
Website: http://www.thefreshmarket.com/index.html
Facebook: http://www.facebook.com/TheFreshMarket
Purchase: You can buy this gift basket of others like it on The Fresh Market site, prices vary.
Disclosure: I received a sample for review purposes only, this is only my honest opinion, your opinion may vary. No other form of payment was received!