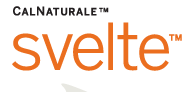 Now that the new year is here, it is time to get to business on making those weight loss goals come true. Recently, I had the chance to check out a energy protein drink. At first, I was not to sure of it, most protein and energy drinks I have tried have been down right nasty.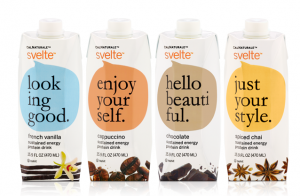 About CalNaturale:
CalNaturale Svelte provides you with the lasting nutrition and sustained energy you need for your active and busy day. Each rich, creamy flavor is created with 16g of organic protein from fresh organic soymilk, along with organic complex carbohydrates for sustained energy. Svelte is tested to be low-glycemic and has only 9 grams of sugar per full bottle. It's also a good source of fiber and is dairy-free and gluten-free. Here's to you.
CalNaturale comes in 4 different flavors, Chocolate, French Vanilla, Cappuccino, and Spiced Chai.
My Personal Opinion:
When I first got my samples of CalNaturale in the mail, I was a tad scared to try them, because a note also came, stating they tasted better cold. This made me think these drinks was going to taste nasty. So I put them in the fridge to chill, then I tricked my husband into having a taste. If it was nasty at least he would have the first drink right? Pretty smart if ya ask me, so he takes a sip, says "not bad". So now I am wanting to try I grab it from him and proceed with caution, I was surprised when it hit my mouth on how good it tasted.
I was scared for no reason, this is the BEST protein/energy drink I have ever tasted. If I had to pick which one I liked the most, it would be really hard, because they all was way good. Yea, I don't think I could pick just one, I am a bit sad that there is not a store closer to me, because this is a product I could see myself indulging in for my protein drink.
If I had to explain the texture of this drink, I would have to say it is like a eggnog thickness, maybe a bit thinner. One great thing about CalNaturale is you can store it safely on the shelves in your cupboard and they won't go bad. I did not try these warm so I can not say how they tasted warm, I can only give my opinion on how they tasted cold, and they was way better then what I was expecting.  I will have to make a trip to Memphis to purchase a few to give me the boost in energy I am needing on my blah days.
Purchase CalNaturale:
You can purchase CalNaturale right on their website. A 12 pack of any flavor retails for $35.99, or if you want all 4 flavors you can purchase the multipack which will give you 3 bottles of all 4 flavors for $37.99. CalNaturale is also sold in certain states, at certain locations, you can check the CalNaturale site to see if it is sold in a store near you.
Connect With CalNaturale:
Website: http://sveltebrand.com/
Facebook: http://www.facebook.com/pages/CalNaturale/139131376124935
Twitter: http://twitter.com/#!/calnaturale
Disclosure: I received one of each flavor for review purposes, this did not alter my opinion in anyways, no other form of payment was received. This is only my opinion yours may vary.