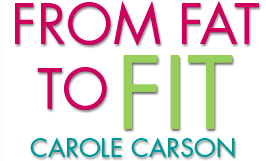 A Little About Carole Carson:
Carole Carson, dubbed "An Apostle for Fitness" by the Wall Street Journal, is the author of From Fat to Fit: Turn Yourself into a Weapon of Mass Reduction. Just before turning 60, Carole decided to reinvent herself. After chronicling her transformation from butterball to butterfly in weekly newspaper articles, she invited others in her Northern California community to join the fun. Inspired by her example, more than 1,000 ordinary people teamed up to lose nearly 4 tons of fat in two months during the Nevada County Meltdown. Read More About Carole…
My Thoughts:
Losing weight is not easy, those who have never had a weight problem have no clue. I often see smaller people talk about how if the bigger person would work out, eat less and move more they wouldn't be fat. Well sometimes, it is hard to work out, sometimes certain conditions makes it hard for one to lose weight even if they are working out. Sometimes a heavier person is ashamed of what they have become. I have went to the track to walk before only to get a feeling that people in the houses by the track was watching out their windows and laughing at the fat girl.
One thing I found while reading From Fat To Fit by Carole Carson is I am not alone, a lot of heavier people are ashamed and have a hard time admitting they need help. I mean when it comes to losing weight it becomes a lot easier if others are cheering you on and working with you to drop those pounds as well.
I love how Carole had the strength to watch everything she ate, and the workouts, basically the commitment. I even found myself laughing at certain parts in the book!
As I was reading this book, I kept saying to myself if Carole can do it so can I, after all I am half her age there is no reason why I can't do it right? In the book Carole gives helpful tips, and suggestions on how to become healthier. One of the tips I found the most helpful, is when a recipe calls for sugar, to either use splenda, or cut the amount you use in half. I am going to try this to see if it does mess with the taste at all, this is one way to enjoy some sweets without adding tons of calories to your daily amount.
I will be using Carole as my inspiration on my goal to drop 170 pounds! Everytime, I want to give up and I do not want to work out, I am going to run it in my head, if Carole can so can I. I think this kind of attitude is what we need to have when trying to battle the pounds.
Purchase:
You can purchase From Fat To Fit on Carole Carson's website, which retails for $14.95. I highly recommend this book if you are needing encouragement. There was times when Carole wanted to pick up and move, but she kept on trucking and dropping those pounds, she ended up losing more inches then her goal.
Connect With Carole:
Website: http://www.fromfat2fit.com
Twitter: http://twitter.com/#!/CaroleCarson
Disclosure: I received a copy of From Fat To Fit by Carole Carson for my honest opinion. No other form of payment was received, and other opinions may vary.