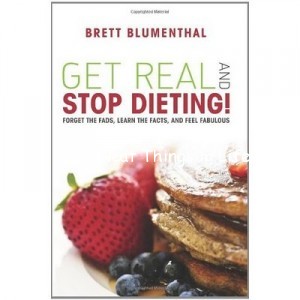 For a long time I tried all the fad diets, it was only until recently I learned that fad diets, are just that fad diets. I learned that no matter how many diets I go on, and how much weight I lose to only gain back, it wasn't going to help me in a long term stand point; I mean I keep losing only to gain, what the heck is the point in dieting then.
Recently I learned that a person should never diet, but change their eating habits, and life style. Once one makes those changes they will never diet again.
I also remember a time when what we call organic now, was what we ate at our meals. Now we eat mostly processed foods and our bodies are lost, we do not know how to handle all the added chemicals, and fillers being used to make these products.
I got to check out Brett Blumenthal's book Get Real and Stop Dieting! When I first got the book the first thing I wanted to check out was the recipes. Love getting new healthier recipes to cook for my family. First, let me give you a description about Get Real and Stop Dieting!
A little about Get Real and Stop Dieting:
If you are ready to make a life change for the sake of better health, look no further than this simple, no-frills guide to healthy eating. In the pages of Get Real and Stop Dieting!, fitness instructor and wellness expert Brett Blumenthal cuts through the chaos of fad diets and scientific mumbo jumbo to demystify healthy eating once and for all. After decades of experience in the health and wellness industries, Blumenthal has zeroed in on five simple "Get Real" principles, nutritional tools founded in cold, hard facts. The principles are accompanied by the "Get Real" toolkit to make implementing them easy and effective. Plus, Blumenthal provides forty pages of healthy, satisfying recipes—from whole-grain pancakes to rich chocolate clusters—to help readers launch their nutritional makeover. Healthy eating doesn't have to be complicated. Now, thanks to this easy-to-implement diet and nutrition program, you too can be inspired, empowered, and motivated to live a healthier, happier life.
My Thoughts:
This description explains this book to a T, once I started reading this book, it finally hit me. I am learning how to live a healthier life, I do not need to go see a dietitian, I do not need to go take classes on what I should and shouldn't be eating. I do not need to join a gym, I needed to finish this book, maybe even read it a few times to get all the information to process completely.
Brett tells you in plain English, how to properly read labels, what foods you should focus on the most, what ones you need to run the other way from, and also different alternatives to some of your favorite recipes, for instance if a recipe calls for 1/2 cup sour cream,  instead use 1/2 cup plain nonfat greek yogurt.
Love, love and love this book. I have learned so much that will help me for a long time coming in meeting my goal weight by my birthday, total weight loss for 2011 I want to aim for 100 pounds! Can I do that, YES I CAN with knowing which foods to eat more of, what foods to eat less of, I a lot of exercise, I am pretty sure I can drop those 100 pounds, I need to learn self discipline and I will be all set. :)
Would I recommend Get Real and Stop Dieting to friends? Why yes I would, I thing the key to losing weight is education, and Brett gives us all that in the comfort of our homes. Did I mention this book also has 40 Healthy recipes that you can cook for your family with all the nutrient values broke down, and guess what you can purchase this book on Amazon for only $6.60! Well worth that price, if you head on over to Amazon right now you will also find a few of the recipes in this amazing book!
Connect With Brett:
Sheer Balance Facebook Fan Page
@SheerBalance on Twitter
www.getrealandstopdieting.com
Disclosure: I received a copy of this book, no other form of payment was received, this is my honest opinion others may vary.