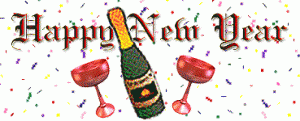 I hope everyone had a great night last night, and yall didn't get into to much trouble! My husband and I drank a few screw drivers, and played cards while snacking, New Years Eve is pretty much the only day of the year I will drink, and I do it at home with my family, I guess you can say I drink away the year before!
So have you all thought about those  New Year's resolutions? Mine is the same as last year, my resolution is to lose weight! Didn't do to bad last year I lost a total of 30 pounds, this year I want to see a bigger difference, I would love to see a 30 pound drop within 3 months that would so rock!
During the month of January Megan from MNMSpecial, and I are going to bring you all some great ways, to help make those fitness resolutions get a jump start. We will be bringing you some great recipes, some awesome reviews and giveaways, as well as some support. One of the main things to losing weight is a support system. The more people you have cheering you on to your goals the better!
So here is to 2011, may it bring us all great happiness and a better year then 2010. Are we ready to get the Tied To Be Fit event started!!! I am let's do it! If you are a company wanting to get in on the Tied To Be Fit event please feel free to contact me via the contact form.