Awe yes a sauna suit! I have been hearing so much about sauna suits lately, I had no clue what they was until recently. I was talking with Jen from over at Mommy's Hangout and she was telling me all about them, telling me I had to get one! See us bloggers do talk, we do recommend awesome products to each other.
She told me I could get one from Wal-mart for about 10 bucks! So I went to walmart.com and did a search, and sure enough I could get one for $7.77, check out the price! They say 3 sevens is good luck, wonder if that is why the price is $7.77.
So since I have been doing so great on my own losing weight and inches, I decided to go spend the money and get me one. Off to Wal-mart my family went, I found the suit, was a bit worried it would not fit, the size of xl/xxl is a waist of  I think 33 to 44 inches, the site says 30 to 38inches. I bought it anyways got it home, put it on the top fit great, the bottoms, whew I had a bit to get them on but I did indeed get them on.
I wanted to put this suit to the test!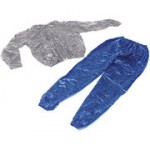 I go out to the living room, and get my husband to take a picture of me looking like a spaceman LOL (no I am not going to put up the pictures of my fat behind, once I start losing more weight and when one can really tell, I will put before and after pictures! Right now I am not ready to expose myself completely), then I get on the elliptical machine! Within a few minutes I could feel the sweat running down my back, arms, and legs. Whew was all I could say, I did a 10 minutes on the elliptical, then sat around in the sauna suit for a good hour, when I went to take off the sauna suit it was soaked!
I will for sure be wearing this at least an hour a day.
The Sauna Suit is made from 100% pvc, you have to be careful when wearing this, because you do sweat a lot, and may dehydrate you, so make sure to stay well hydrated so you do not do more harm to yourself!