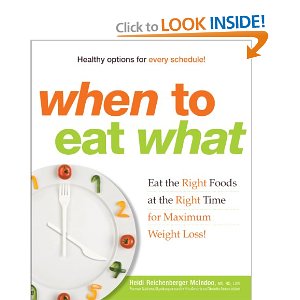 Do you wake up in the middle of the night starving? Are you too busy to grab a quick bit to eat in the morning? If so When to Eat What: Eat the Right Foods at the Right Time for Maximum Weight Loss!
by Heidi Reichenberger McIndoo is one book you should probably invest in if you are trying to live a healthier you in 2011.
About When To Eat What:
Pomegranates. Whole-wheat pasta. Edamame.Everyone knows what food keeps them healthy and slim, but this book takes it a step further and helps you figure out what to consume at specific times to take the guesswork out of eating well.

This go-to guide answers the question, "What should I eat when . . ."

I have to get up early for a morning meeting, but I'm not really hungry?
I didn't have a chance to eat dinner until 10 P.M., but know I shouldn't eat too late to avoid weight gain?
I wake up starving in the middle of the night?Whether you are a busy executive, a new mom, or training for a marathon, this valuable resource provides meal plans as well as nutritional and weight loss tips to help you get the most from your food. Because, we may be what we eat, but WHEN we eat counts, too.

About the Author

Heidi Reichenberger McIndoo, MS, RD, LDN is a nutrition consultant, spokesperson, and author who worked for more than twelve years as an outpatient dietitian at a small hospital and a community health center. She has contributed to numerous health-related books and magazines, including Prevention, Eating Light, Family Circle, Shape, and more.
Not only does When To Eat What, tell you what you should eat when, it also has some awesome recipes!
My Personal Opinion:
I personally never new why it was so important to eat at certain times, nor did I know it was important to eat certain foods together. I have always usually snacked here and there through out the day, then ate one meal at dinner time. So I couldn't figure out why I wasn't losing no weight. Over the past year or so, I have learned how important it is to eat 3 meals a day and to have a few snacks as well. I have also learned that not only is it okay to eat more then one meal a day, but it is important that I do so. By not eating those meals, I am hurting my body more then helping it.
What To Eat When is going to be a great resource for me to turn to, throughout the year, I will be using it as one of my guides as I try to reach my weight loss goal for 2011 which is 50 pounds. I love how Ms. Heidi pretty much lays everything out for you, she gives great advice to almost all situations, as well as an easy to follow meal plan. A lot of weight loss books give you a meal plan to follow, but they are off the wall recipes with expensive products. I think what some forget is most people who are obese are middle class, and purchase cheap foods. You can eat cheap and it still be healthy I have learned this the hard way!
One of the recipes that stood out to me in the book What To Eat When was the Apple Burrito!
Apple Burrito: Serving Size 1
1 whole wheat tortilla (1.5 ounce)
1 tablespoon crunchy peanut butter
1 small apple chopped
1 teaspoon honey
Spread tortilla with peanut butter, sprinkle apples on top. Drizzle with honey and roll up.
Simple recipe quick easy and would make a yummy quick out the door breakfast.
Another great thing about What To Eat When is Ms. Heidi has everything broken down for you. In this one serving there is 320 Calories, 8 grams of Protein, 50 grams of Carbohydrates, 6 grams of fiber, 11 grams of total fat, 2 grams of Saturated Fat, 221 milligrams of Sodium.
I am sure those numbers will vary some, depending on product.
If you would like to find more great recipes in When To Eat What, or find out what you should eat when you wake up starving, you can purchase  When To Eat What by Heidi Reichenberger McIndoo on Amazon for $10.85!
Disclosure: I received a copy of What To Eat When for review purposes only, no other form of payment was received, this is only my honest opinion others may vary.